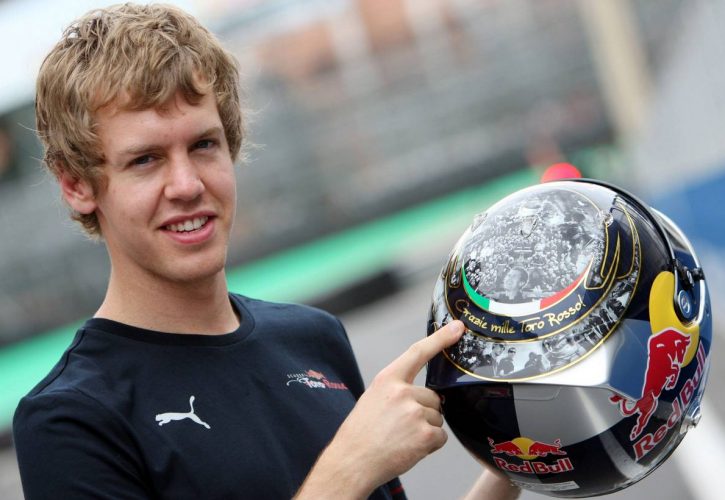 Former Ferrari president Luca di Montezemolo says the Scuderia considered poaching Sebastian Vettel from Red Bull at the end of 2008 but deemed the young German "too immature" at the time.
After stepping up to F1 with Toro Rosso in the latter part of the 2007 season, Vettel was awarded a full-time seat with the Faenza-based squad the following year.
And the 21-year-old made the most of his big break, winning in spectacular fashion from pole position the Italian Grand Prix at Monza.
The feat put Vettel on Ferrari's radar and incited then Scuderia consultant Michael Schumacher to talk up his young countryman's skills to Maranello's top brass. But the Scuderia ultimately declined to pursue Vettel, deciding instead to roll out the red carpet for Fernando Alonso in 2010.
"Vettel was a driver Schumacher would have wanted at all costs for Ferrari after his experience at Toro Rosso and before moving on to Red Bull," di Montezemolo told Sky Italia.
"But we found him to still be immature and we preferred to have Fernando Alonso with us.
"Beyond some character aspects, he [Alonso] did great things and lost two World Championships in the final race.
"Vettel is a guy who feels the pressure, who needs to be supported but is strong in action. He made mistakes, but also because he was daring, and for me in F1, one must dare."
Di Montezemolo's career at Ferrari was a two-part affair, the Italian given the reins of the Scuderia by Enzo Ferrari in the mid-70s, winning two world titles with Niki Lauda, and then taking the helm again from the early 90s when he set out to build the red outfit's massively successful dream team that included team boss Jean Todt, technical director Ross Brawn, designer Rory Byrne and Schumacher.
Despite his outstanding achievements, the 72-year-old businessman harbors one big regret when he looks back on his 30 years at Maranello.
"Not having brought Ayrton Senna [to Ferrari]," he unequivocally  said. "He came to my house in Bologna before the Imola accident and told me that he wanted to race with us at all costs and free himself from Williams.
"We agreed to speak after Imola, but then what happened happened. He wanted to come to us and I would have been happy to have him.
"It would have been the icing on the cake, which was when Michael Schumacher entered Ferrari history because nobody did what he achieved."
Gallery: The beautiful wives and girlfriends of F1 drivers
Keep up to date with all the F1 news via Facebook and Twitter