Lewis Hamilton doesn't share some of his F1 rivals' interest for sim racing, but the six-time world admits he's been competing against himself lately in his favourite virtual game.
Formula 1's forced hiatus amid the coronavirus pandemic has encouraged several F1 drivers to keep themselves busy in the virtual world.
While Max Verstappen and Lando Norris have bene long-time fans of online racing, Charles Leclerc, George Russell and even Sebastian Vettel, among others, have joined the fun since F1 has been put on pause.
But Hamilton just isn't hooked on the Esports phenomenon, and even shies ways away from sim duties at Brackley whenever possible.
"I never drive simulators, very, very rarely," he explained in a Mercedes YouTube video. "With simulators it's very, very difficult, because the movement is never perfect. It's something they constantly try to improve on.
"Obviously if you're at home with a simulator the seat doesn't move, and your mind is telling you that the car's moving, but you're not getting any cueing of movements.
"You have to kind of override your mind and I don't really like doing that and going through that process. Then you get in the real thing, and it's completely different.
"I don't find personally any benefit doing the simulation thing, but the actually fun gaming side of things, when you get to play with friends and people online, that's a plus stage."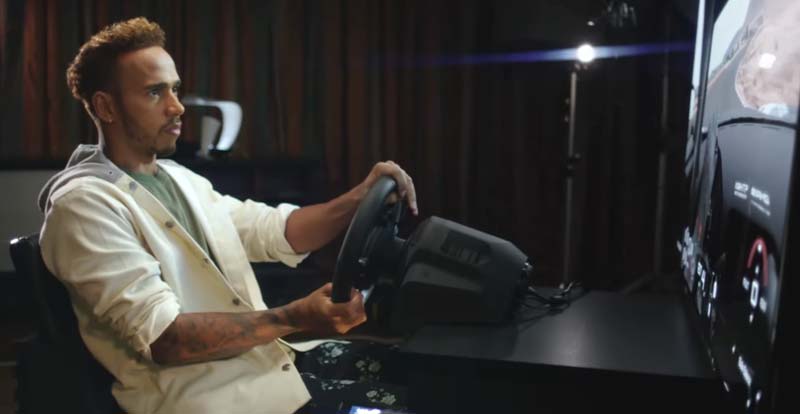 However, the 34-year-old F1 star isn't completely withdrawn from the virtual world, enjoying an endorsement deal with Gran Turismo and admitting to regularly trying to beat his own reference lap time in the popular game.
"Gran Turismo and Sony just sent me this whole set-up," he said. "I grew up playing Gran Turismo, and spending hours earning the money to buy all these cars, and it was really a great opportunity to do something with them.
"So I've been working with them the last couple of years, and I got to do this challenge, beat my time kind of thing. I've been racing myself, trying to beat my own laps. It's been frustrating as hell, because my laps were pretty decent I think!"
While he's never been tempted to race his rivals online, Hamilton confessed that he does meet with his real-world opponents in the virtual, but in a completely different environment.
"I've played Call of Duty with Pierre Gasly and Charles Leclerc!"
Gallery: The beautiful wives and girlfriends of F1 drivers
Keep up to date with all the F1 news via Facebook and Twitter