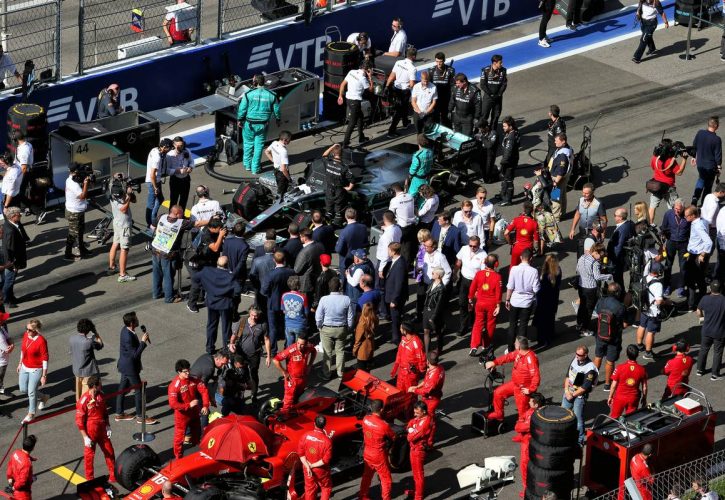 Formula 1 has been advised by the FIA that it may scrap its pre-race grid build-up this summer to ensure physical distancing and safety at upcoming events.
The sport's governing body has published a series of guidelines for event organisers in which it advises on how to analyse and manage health risks at events in the context of the COVID-19 pandemic.
The comprehensive guide covers all sanitary ad safety aspects of a race weekend involving teams, officials, marshals and media.
While various procedures are laid out, significant changes to an event's organisation are also touched upon , such as the elimination of the traditional grid build-up, with drivers heading straight from the pitlane to the grid ahead of a race's formation lap.
"It could be considered to remove the grid procedure from the event schedule and start the formation lap from the garages," stated the FIA document.
F1 is reportedly not currently considering scrapping its grid build-up although certain restriction could be applied to limit or organize team members' presence on the grid.
"Suitable mitigations could be to limit the time of the grid procedure (less than 15 minutes) and the number of personnel allowed to work on the car on the grid, thereby significantly reducing the number of close contacts," added the FIA.
The guidelines, entitled 'Return to Motor Sport', also address a 'Group Separation Strategy', or the provisions that will govern the organization and isolation of individual groups - teams, officials, media - at race events.
"The number of interactions between groups should be minimised to mitigate virus transmission between groups," adds the FIA.
"Where interactions between groups cannot be avoided, without unduly jeopardising safety, sporting governance or the ability of a competitor to compete in an event, social distancing should be respected or additional personal protective equipment (PPE) should be used to mitigate virus transmission."
Gallery: The beautiful wives and girlfriends of F1 drivers
Keep up to date with all the F1 news via Facebook and Twitter