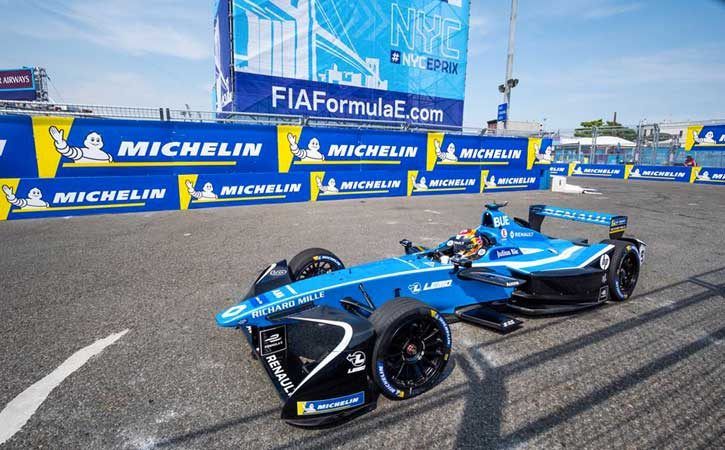 The provisional calendar for the next season of the all-electric ABB FIA Formula E championship has been approved by the World Motor Sport Council.
Due to the coronavirus outbreak and the delay to the current campaign, for the first time the season will not straddle two calendar years.
That's because the current 2019-20 season is yet to be concluded following a lengthy hiatus as a result of the pandemic. The title will be decided with six races at Berlin's Templehof Airport in August.
As a result, all 14 races of the next season will now take place in 2021, commencing with the Santiago ePris in Parque O'Higgins, Chile on January 16. It will be the first time that the country has held the season opener.
Following the season opener, Formula E will move on Mexico City for a sixth ePrix to be held at the Autodromo Hermanos Rodriguez.
After that will be a double header at Diriyah in Saudi Arabia at the end of February, followed by races in China, Italy and France. However the event in Rome is listed as being "subject to circuit homologation".
The bi-annual Monaco ePrix will take place on May 8, again subject to circuit homologation as is Seoul which follows two weeks later. It will be he first time for Formula E in South Korea, after this year's planned inaugural event was cancelled dur to coronavirus.
After that, Formula E will be racing once again in Berlin and New York, before the final weekend of the season sees a doubleheader in London on the weekend of July 24/25. The UK last held a race in 2016 when the track was built in Battersea Park.
Another round has been pencilled in between Seoul and Berlin for June 5, but the venue is currently listed as 'to be confirmed'.
A bid for a round in Brazil led by inaugural series champion Nelson Piquet Jr has not made it onto the 2021 itinerary.
Continued political disruption in the region means that Hong Kong has been dropped from the schedule, with Marrakech and a first race in the streets of the Indonesian capital of Jakarta also not currently listed.
| Round | Venue | Country | Date |
| --- | --- | --- | --- |
| 1 | Santiago | Chile | 16 January 2021 |
| 2 | Mexico City | Mexico | 13 February 2021 |
| 3 | Diriyah 1 | Saudi Arabia | 26 February 2021 |
| 4 | Diriyah 2 | Saudi Arabia | 27 February 2021 |
| 5 | Sanya | China | 13 March, 2021 |
| 6 | Rome * | Italy | 10 April, 2021 |
| 7 | Paris | France | 24 April, 2021 |
| 8 | Monaco * | Monte Carlo | 8 May, 2021 |
| 9 | Seoul * | South Korea | 23 May, 2021 |
| 10 | TBC | TBC | 5 June, 2021 |
| 11 | Berlin | Germany | 19 June, 2021 |
| 12 | New York City | United States of America | 10 July, 2021 |
| 13 | London 1 | United Kingdom | 24 July, 2021 |
| 14 | London 2 | United Kingdom | 25 July, 2021 |
* subject to circuit homologation
Gallery: The beautiful wives and girlfriends of F1 drivers
Keep up to date with all the F1 news via Facebook and Twitter