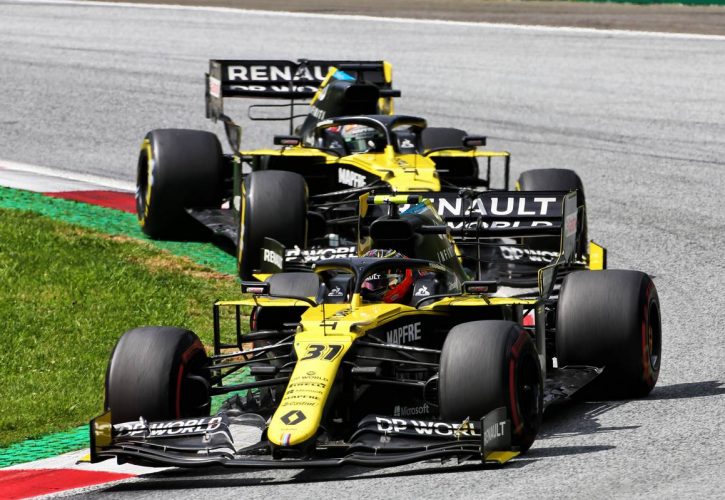 Sky F1's Martin Brundle says Esteban Ocon was wrong to make life difficult for his faster Renault teammate in the Styrian Grand Prix, insisting the Frenchman must learn to play the team game.
Ricciardo was snapping at Ocon's heels in the early stages of last Sunday's race, but struggled to find a way past his teammate despite being the faster driver and running on a harder tyre compound than the Frenchman.
The Aussie finally gained the upper hand on lap 18, only for Ocon to retire shortly after when his Renault R.S.20 developped a cooling issue.
Ricciardo urged his team to order a swap between its drivers and believes that call would have eventually come had Ocon not fallen to the wayside.
"Obviously, we were on different strategies," Ricciardo explained. "I was on the medium and Esteban was on the soft, so I think typically early in the race I don't think it's that wise to fight and lose time, especially on a split strategy.
"So I asked the question, and then I got past, but I believe the call was coming. If it wasn't that lap, it was going to come. So it was being discussed on pit wall.
"I think obviously they could see we were both losing time trying to fight each other. So it was certainly being addressed."
Assessing the on-track battle last weekend between Renault's drivers for his Sky F1 column, Brundle sided with Ricciardo, insisting Ocon had more to gain by yielding to his team mate rather than resisting him.
"Renault faced the situation where the McLaren-bound Ricciardo really should have been eased by his team-mate, Ocon," wrote the former F1 driver.
"Esteban is an impressive fighter, but as with his days at Force India he must realise that working as a team is not a weakness, and certainly a maturity the big teams look for.
"They were holding each other up in what will likely be a season-long scrap with McLaren and Racing Point."
Gallery: The beautiful wives and girlfriends of F1 drivers
Keep up to date with all the F1 news via Facebook and Twitter