Mercedes technical director James Allison says the German outfit is still refining its 'Dual Axis Steering' concept despite the FIA's ban on the device from 2021.
The technical innovation which was uncovered during pre-season testing in Barcelona allows Mercedes' drivers to adjust the toe-in angle of their W11 by pushing or pulling the steering wheel.
The creative tool can either help reduce aero drag on the straights or contribute to tyre management either by increasing or lowering temperatures according to the tor angle.
However, in its quest to keep F1's costs in check, the FIA has outlawed the system for 2021. But Allison said that DAS is still getting the attention of Mercedes' engineers.
"I think that for us, it's still a very new system," the Mercedes tech boss told Autosport.
"Precisely how, where and when we get the most opportunity from it is, to some degree, is continuing to be a voyage of discovery for us.
"The manner in which we develop it is still open for us as the season goes on.
"So it's not a closed book, and we hope to get more from it if we can learn quickly in the coming races."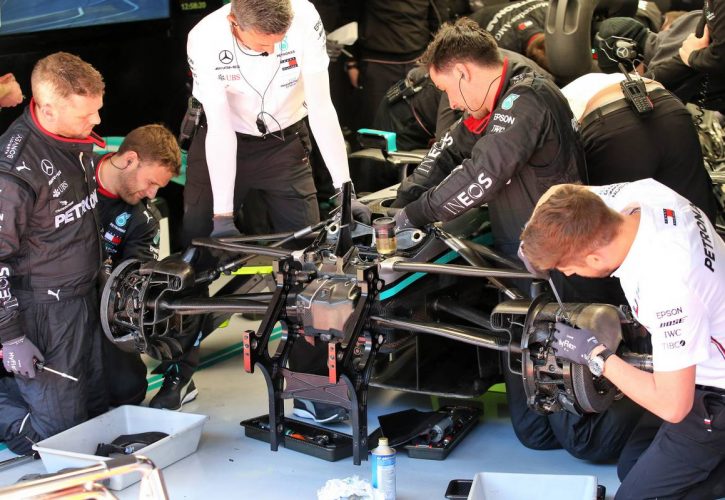 Red Bull had their doubts about whether DAS was legal or not, the Milton Keynes-based outfit protesting the system at the opening race in Austria earlier this month.
But a subsequent green light from the stewards led Red Bull team boss Christian Horner to suggest that his team could implement its DAS system this summer.
"Everything has to earn it's place on the car," said Horner at the time. "Obviously it's a clever system, an ingenious system, these rules are so complex, it's just to understand in which part of the regulations it fits."
Gallery: The beautiful wives and girlfriends of F1 drivers
Keep up to date with all the F1 news via Facebook and Twitter