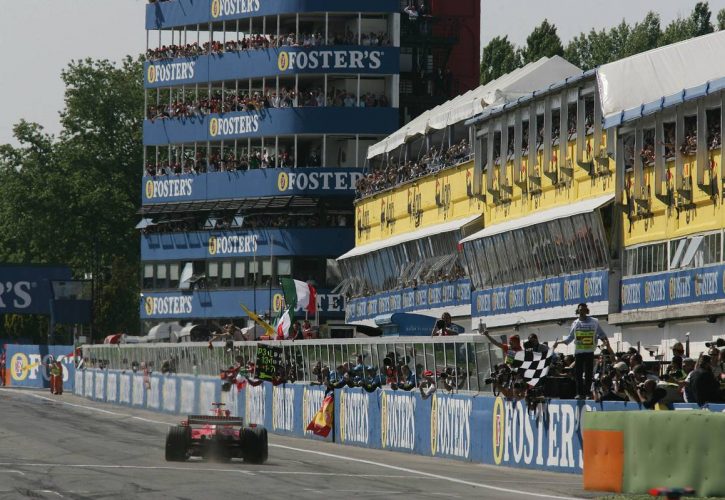 Formula 1 officially added on Friday three races to its 2020 season, with rounds now scheduled at the Nürburgring, Portimao in Portugal and at Imola in Italy.
F1 will return to the Nürburgring that it last visited in 2013 on October 11, but teams will race for the very first time at Portimao on October 25.
A week later, Imola - where F1 last raced in 2006 - will host the 13th round of the 2020 world championship but the event's format will be limited to a two-day weekend, with a timetable that is expected to include just one practice session ahead of qualifying and the race.
Along with Monza and Mugello, Imola's presence on the calendar means that Italy will become the first country to host three Grands Prix since the United States in 1982, when F1 raced at Long Beach, Detroit and Las Vegas.
But the trio of home races for Ferrari will also pile the pressure on the Scuderia.
"We can confirm that Portimão, Imola and Nürburgring will each host Grands Prix this October," Formula 1 said ina statement on Friday.
"We are excited to welcome Portimão as a completely new circuit to the Formula 1 season as well as welcoming back Imola and Nürburgring, circuits that have hosted World Championship races in the past.
"After ongoing discussions and close collaboration with our partners we can also confirm that due to the fluid nature of the ongoing COVID-19 pandemic, local restrictions and the importance of keeping communities and our colleagues safe, it will not be possible to race in Brazil, USA, Mexico and Canada this season."
Chase Carey, Chairman and CEO of Formula 1, said:
"We are pleased that we continue to make strong progress in finalising our plans for the 2020 season and are excited to welcome Nürburgring, Portimão and Imola to the revised calendar.
"We want to thank the promoters, the teams, and the FIA for their full support in our efforts to bring our fans exciting racing this season during an unprecedented time.
"We also want to pay tribute to our incredible partners in the Americas and look forward to being back with them next season when they will once again be able to thrill millions of fans around the world."
The three events boost the number of rounds scheduled for 2020 to 13, but F1 is working hard to try and add two Asian rounds - Vietnam and perhaps Malaysia - in November while a double-header in Bahrain and a final round in Abu Dhabi in December are almost sure to bookend the year.
Formula 1 2020 season calendar
| Round | Race | Venue | Date |
| --- | --- | --- | --- |
| 1 | Rolex Grosser Preis von Osterreich | Red Bull Ring, Austria | 5 July |
| 2 | Pirelli Grosser Preis der Steiermark | Red Bull Ring, Austria | 12 July |
| 3 | Aramco Magyar Nagydij | Hungaroring, Hungary | 19 July |
| 4 | Pirelli British Grand Prix | Silverstone, United Kingdom | 2 August |
| 5 | Emirates 70th Anniversary Grand Prix | Silverstone, United Kingdom | 9 August |
| 6 | Aramco Gran Premio de Espana | Circuit de Catalunya, Spain | 16 August |
| 7 | F1 Rolex Belgian Grand Prix | Spa-Francorchamps, Belgium | 30 August |
| 8 | Gran Premio Heineken d'Italia | Monza, Italy | 6 September |
| 9 | Gran Premio Della Toscana Ferrari 1000 | Mugello, Italy | 13 September |
| 10 | VTB Russian Grand Prix | Sochi, Russia | 27 September |
| 11 | F1 Aramco Grosser Preis der Eifel | Nürburgring, Germany | 11 October |
| 12 | F1 Heineken Portuguese Grand Prix | Portimao, Portugal | 25 October |
| 13 | F1 Emirates Gran Premio dell'Emilia Romagna | Imola, Italy | 1 November |
Keep up to date with all the F1 news via Facebook and Twitter