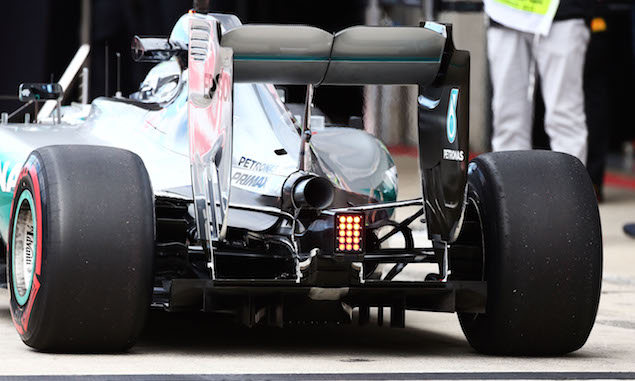 New exhaust regulations to be introduced in 2016 "will enhance the sound" of the current F1 power units, according to Mercedes' Andy Cowell.
Since the introduction of the 1.6-litre V6 power units in 2014, power units have had only one exhaust pipe out of the rear of the car. Following concerns about the noise of the current generation of engines - most specifically the volume rather than the sound itself - next year's regulations state teams must use at least one additional pipe for the wastegate, with up to two extra pipes allowed.
Cowell is the managing director of Mercedes AMG High Performance Powertrains and expects the change to have an impact on both the quality and level of sound from the power units.
"I think that will enhance the sound, it will tidy it up," Cowell said. "At the moment we've got the main tailpipe coming out of the rear of the turbine and the wastegate tees in to that so there is just one pipe coming out of the back.
"That tee piece acts as a dead end on the main tailpipe so it acts as a side branch resonator which will affect the frequency of the sound in the main tailpipe. Taking that out will clean up the quality of the sound and improve the volume as well of the main tailpipe."
Technical feature: All of the 2015 F1 steering wheels
2015 F1 season: F1i's drivers review 10-1