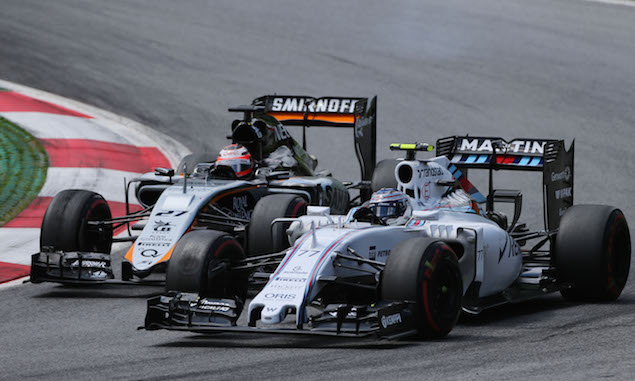 Nico Hulkenberg says Force India needs to make Williams its target in 2016.
Force India scored its best ever constructors' championship result in 2015 by finishing fifth in the standings, aided by the introduction of its impressive B-spec car at the British Grand Prix. With Williams also a Mercedes customer, Hulkenberg says Force India should be looking to emulate the team which has finished third in the constructors' for the past two seasons.
"Of course, if you look at Ferrari and Mercedes then of course it's a big gap," Hulkenberg told F1i. "But I think we need to target the likes of Williams, step-by-step trying to close it and putting ourselves in a better position.
"It's quite remarkable with the B-spec car I think either me or Checo [Perez] have scored pretty much points in every race. Whatever the circuit characteristics was the car was competitive and we were able to score points on merit from our own strengths so I think that's pretty good."
And Hulkenberg believes Force India already has the capacity to move further up the grid despite operating on a much smaller budget than the teams at the front.
"We just need to take the next step. Nobody says it's going to be easy, for sure it is going to be tough because nobody stands still but we're competitive as well and I have faith in the team back at base in Silverstone that they can find more performance."
Technical feature: All of the 2015 F1 steering wheels
2015 F1 season: F1i's drivers review 10-1