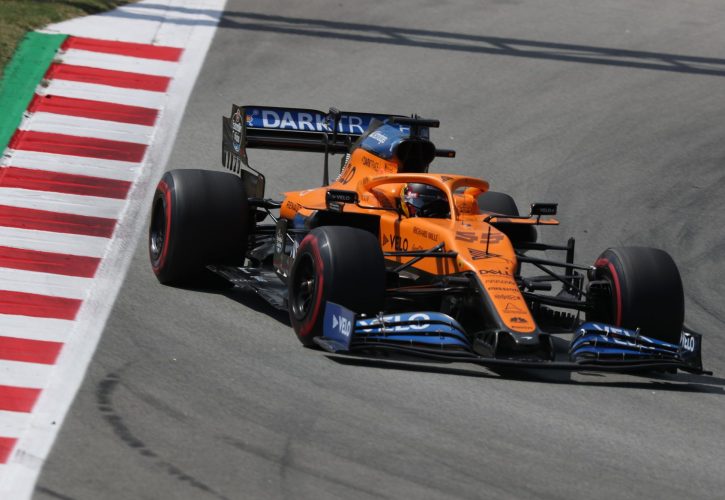 Carlos Sainz's solid Spanish Grand Prix put the McLaren driver back in the points after a two-race draught, a result the Spaniard believes will also be "confidence building" for his team.
A spell of bad luck that included a botched pitstop from his team, a tyre failure in the British Grand Prix and cooling issues at Silverstone's second race have weighed on Sainz's recent results.
An engine change in Barcelona solved his MCL35's cooling problem and allowed Sainz to make it into the Q3 shootout on Saturday.
From P7 on the gird, the McLaren charger held his own among the top ten from where he negotiated the successive tyre rotations without any drama to end his race sixth.
"Eight points! It's a bit of a relief for me after such a long run of bad luck, but also for the guys it's a confidence building race, getting the strategy right, the pit stops right," admitted Sainz.
"I'd like to thank the whole team also because obviously an engine change makes a bit of a difference.
"And today we actually put up a fight with the Racing Points which is a bit surprising because they were very fast out there.
"In the end of the race, we nearly gave them a headache with the lap times we were doing. So happy about that and definitely a confidence building weekend."
Running an aggressive last sting on the medium tyre, Sainz believes he could have pipped Sergio Perez to fifth, taking into account the five-second penalty handed to the Mexican for a blue-flag violation.
But ultimately, the need to lift while he was lapped by runner-up Max Verstappen blew away his chance of a top five result.
"Yeah, we wanted to go on the attack, we were very clear that the hard tyre on our car doesn't work.
"We wanted to save the medium for the last stint so we went soft/soft and then I had a clean last stint [on the mediums].
"It's a shame because I just got lapped by Verstappen eight laps to the end, that made me lose two or three seconds which in the end cost me my position with Checo. But still P6 and good points!"
Gallery: The beautiful wives and girlfriends of F1 drivers
Keep up to date with all the F1 news via Facebook and Twitter