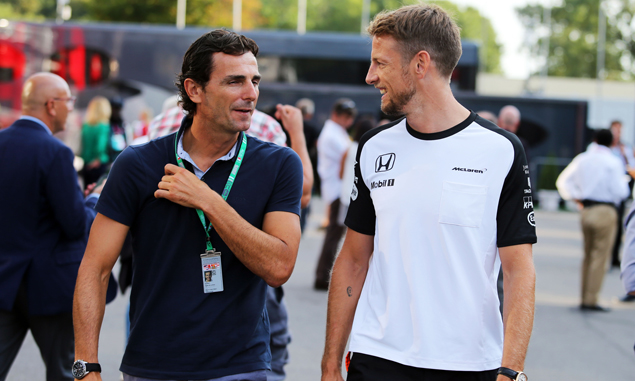 Former grand prix driver Pedro de la Rosa does not expect McLaren-Honda to return to winning ways in 2016 and advises his former team to shift its focus on 2017 instead.
The British outfit and Japanese engine manufacturer experienced a torrid reunion last year, finishing a lowly ninth in the Constructors' championship amidst poor power unit reliability and performance.
De la Rosa, who scored his sole Formula One podium with McLaren at the 2006 Hungarian Grand Prix, thinks the renewed partnership should anticipate 2017's sweeping changes in the technical regulations.
Asked by Spanish publication As what would make a successful season for McLaren-Honda in 2016, the 44-year-old replied:
"Be regularly in Q3 and score a podium finish. They could lay the foundations for gunning for the 2017 world title.
"However, it must be clear that fighting for the championship will take place in 2017, not in 2016. Therefore, they should know to focus on their 2017 car-engine package from the very start of the 2016 campaign."
A veteran of 107 grand prix participations, De la Rosa's career in the top flight included a long spell as Woking's official reserve and test driver. Though mindful of the challenge presented by the 1.6-litre V6 turbocharged power units, the Spaniard did not expect McLaren-Honda to struggle so mightily. Yet, he admits the signs were there.
"Never would I have thought that they could experience a year like that. But with hindsight, this is what happens when an engine constructor is in a hurry, decides to be based in Japan, far from his English team, and does not poach top engineers from other manufacturers who are familiar with the new hybrid turbo engines. This just makes the learning period much longer."
In the wide-ranging interview, De la Rosa also dismisses the rumours according to which fellow countryman Fernando Alonso could temporarily withdraw from the sport if his package remained uncompetitive.
"He is still too talented and hungry to do so. From experience, a driver never speaks of taking a sabbatical. What's more, the more difficult the project is, the more motivated Fernando will be. He is a fighter."
Key dates for the 2016 F1 season
Playing the joker: Sebastian Vettel
Technical feature: All of the 2015 F1 steering wheels
Use the red tabs on either side of the screen to scroll through more Formula One news and features