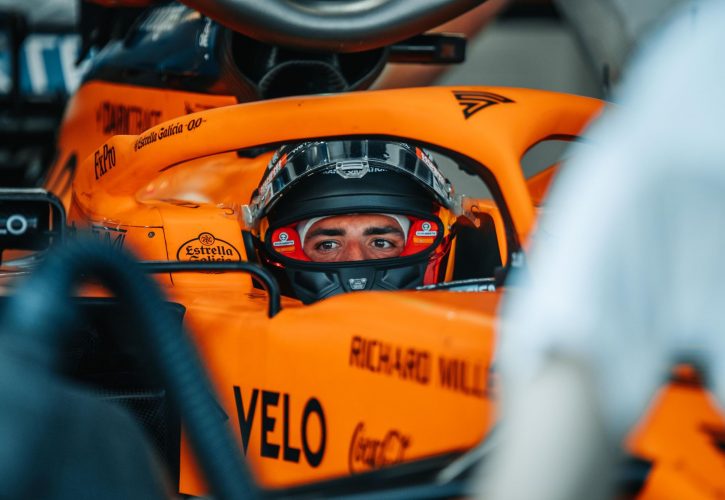 Carlos Sainz says that he hopes McLaren has turned a corner with a strong performance in Barcelona, and hopes to carry that improved form into this weekend's Belgian Grand Prix.
"In general, we've performed well over the opening stint of races and I hope Barcelona was a turning point in my season," said the Spanish driver.
"We need to carry forward all the positive energy built in Spain," he added. "The constructors' championship is extremely tight and leaving points behind is not an option if we want to stay in the fight."
Sainz has been buoyed by the introduction of a new chassis in time for Spain which appears to have solved a chronic cooling issue that blighted his first races of the season.
McLaren are currently one point behind Racing Point for third place in the constructors championship. However Sainz is just ninth in the drivers standings, and trails his team mate Lando Norris.
Racing director Andreas Seidl admitted that Racing Point is likely to prove too strong for McLaren to beat this year, despite the 15 point penalty their rivals received for copying the design of last year's Mercedes too closely.
"We know that we face a challenge in the constructors' championship, with third to sixth place separated only by a small amount of points," he acknowledged.
"Reliability, race operations and extracting maximum performance from the car are all critical to staying in this fight.
"I think the fight we are in, in terms of pure car performance, is with the Ferraris and the Renaults," Seidl told Autosport magazine. "We need to stay realistic there.
"If Racing Point actually can use the potential of the car they have, I think it is difficult to fight them," he explained. "But in terms of the two drivers we have and the level of execution we have within the team, there is always a chance to still battle them.
"We will not give up on P3 as long as there is a chance," he insisted. "A great thing also to mention is the reliability so far on our side. We've had now six race weekends without any single issue on the reliability side."
"It's another great testament for the step forward we have taken as a team, the way we design parts, produce parts and build the cars.
"We should also mention clearly that Renault is playing a big role," he added. "They also did a great job over the winter with their power unit in order to contribute to this great reliability and the great performance."
This week McLaren has also announced a new multi-year partnership with Belarusian company Miory Steel which will see their branding appear on the MCL35 from this weekend.
A leading producer of electrolytic tinning and cold-rolled sheet in Belarus, the company pointed out that it was the first such partnership in the history of the country.
Gallery: The beautiful wives and girlfriends of F1 drivers
Keep up to date with all the F1 news via Facebook and Twitter