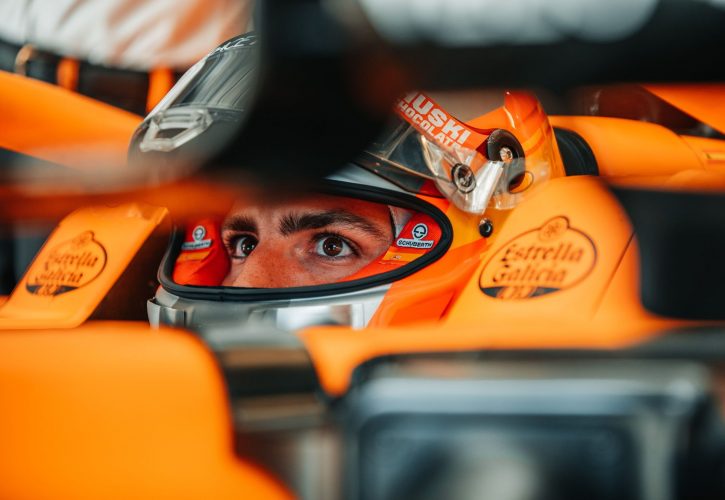 Carlos Sainz will face multiple challenges next year at Ferrari, but the prospect of fighting Charles Leclerc is an enticing one for the outbound McLaren driver.
Sainz will take up residency at the House of Maranello from 2021, replacing Sebastian Vettel and opening a new chapter in his six-year career in F1.
At the outset next year, the Spaniard will be up against Ferrari's likely depressed level of performance, thanks to a regulation freeze that will allow only marginal gains to be extracted from the team's SF1000 by the Scuderia's engineers.
But perhaps the biggest hurdle set to be placed in the 25-year-old's path will be the man sitting on the other side of Ferrari's garage and perceived by the whole of Italy as 'the chosen one', the driver who will eventually bring the title back to Maranello for the first time since 2008.
Leclerc will be the hardest of nuts to crack for Sainz, but the Spaniard has no inhibitions about taking on the arduous challenge.
"I'm aware that I'm going in new and he's been there for three years there by the time I arrive and he will know the car, know very well the team," Sainz told The Race.
"I've been in that situation before. For example, in Renault, when I arrived next to Nico [Hulkenberg].
"I know it takes a bit of time before getting to know everyone and how to exploit the full performance of our car and how to build a bit your team and feed yourself into that team. I know what it's like, I've done it before.
"I know it's not going to be easy, especially with the talent of Charles and how good he's been doing lately. He's a great competitor, but it's a challenge that excited me when I signed the deal.
"It might not be in a long-term contract, but I'm in a mid-term contract, which gives me enough time to get into the team and start from zero with a bit of patience and adapt to the team little by little."
The fact that Ferrari's top brass has practically written off 2021 and set its sight on a revival in 2022, in the wake of the sports' regulation overhaul, will perhaps provide Sainz with an inconsequential free year of adapting and learning, and getting acquainted with the high pressure environment that historically prevails at the Italian outfit.
"I look at it as preparation," said the current McLaren charge
"In the future, if I want to fight for a championship, which I want to, you get that scrutiny and analysis. But I'm also sure once you're fighting for a championship, the pressure is insane.
"You have to be ready for those kinds of scenarios and I want to be in that kind of scenario.
"Of course, it's something that is in my mind, but it's something I'm willing to go through because it's what every driver who wants to be world champion needs to go through at some point."
Gallery: The beautiful wives and girlfriends of F1 drivers
Keep up to date with all the F1 news via Facebook and Twitter