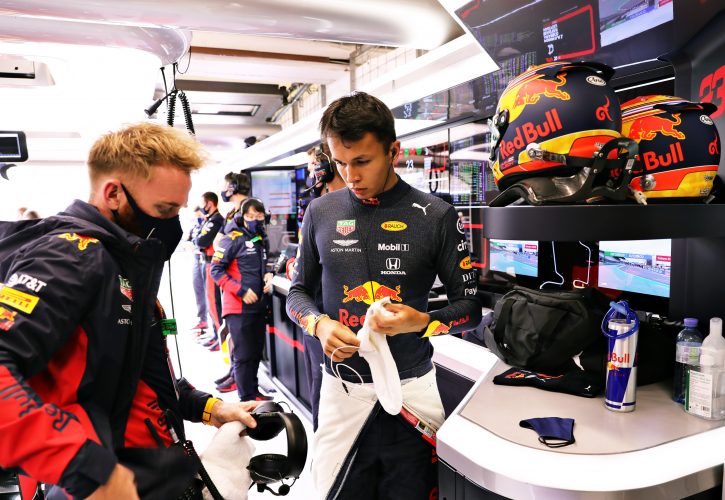 After a weekend away from racing to relax and recharge, Alex Albon is happy to be getting back to work this weekend - and at a circuit with a special significance to him.
"It's always busy in Formula 1," he said this week. "Obviously we're in the full swing of the season now and the races are coming thick and fast.
"With six races under our belt we know the areas we need to work on and the guys at the factory are working flat out to make the car better, faster but also easier to drive.
"Everything's going pretty well, we are improving step by step and experimenting on what works and what doesn't, just like everyone else.
Spa holds particularly good memories for Alex Albon, who made his Red Bull debut here a year ago when he was swapped into the team in place of Pierre Gasly.
Despite starting that race from the back due to a power unit penalty, Albon made his mark by racing through the field to finish in fifth after Verstappen himself retired with damage on the opening lap.
"I was pretty nervous going into my first race with the team," he recalled. "Obviously you want to do a good job because you want to make a good impression.
"I didn't know anyone, and I'd only been in F1 for six months with Toro Rosso, so going to a big team was obviously very new to me.
"Now I know everyone, I'm settled in with the team, we're making progress each weekend, so it's nice to go back to the circuit where it all started.
"It's gone fast, that's for sure," he said when reflecting over the course of the last 12 months. "It definitely doesn't feel like a year.
"I'm looking forward to this weekend, I can take what I learned from last year's race and apply it to this one so there's a bit of experience that I can take with me which is nice.
"We already had ideas last year and I remember how the car felt. Of course it's a different car this year but it's still got similar traits so it'll be good to compare and see what we can do.
"As we've seen this season, we've had some really good races and Spa is good for overtaking so I'm excited to hit the track and get going," he added. "Hopefully we can do a good job this year.
"Spa is a nice track and it's one of the best ones we go to. It's iconic!"
Gallery: The beautiful wives and girlfriends of F1 drivers
Keep up to date with all the F1 news via Facebook and Twitter