Pirelli F1 boss Mario Isola says teams will be venturing into the unknown at Mugello this week, with everyone starting from a "clean sheet of paper" in terms of defining tyre strategies for the Tuscan Grand Prix.
F1's exclusive tyre supplier has selected its three hardest compounds for the sport's first race at the Ferrari-owned track which features a blend of medium and high-speed corners.
But Mugello's tarmac, which was last resurfaced in 2011, is also famously aggressive
"It's a spectacular and very fast circuit that will definitely place big demands on tyres, which is why we have selected the hardest compounds," said Isola.
"As with any new venue, Mugello represents a bit of an unknown for most of the drivers and an entirely clean sheet of paper when it comes to strategy.
"Free practice will be particularly crucial to collect as much data as possible, and we're likely to see teams splitting their programmes to gain as much information as they can about every tyre under all circumstances.
"From our point of view, we've been able to prepare also by analysing data from our other championships that have raced at Mugello."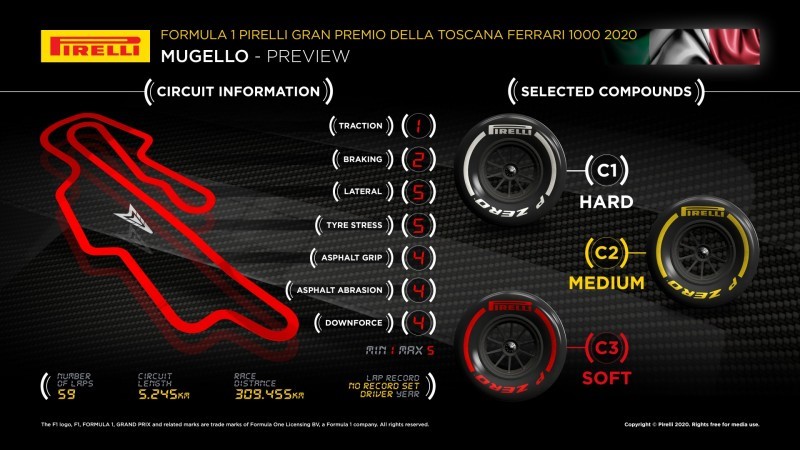 Renault chief race engineer, Ciaron Pilbeam, confirmed the importance of Friday's two work sessions.
"Our priorities for the first part of the weekend will be to give the drivers time to get up to speed on the new circuit, to dial in the setup as we learn the details of the track, and to understand the behaviour of the tyres," Pilbeam explained.
"We have the three hardest compounds as this circuit is likely to be quite severe. It's the first of several circuits that we have not been to for a few years, so it's an interesting new challenge.
"Some teams used to test there several years ago, but the cars are very different now and there won't be much from previous running that is very relevant to this weekend."
Gallery: The beautiful wives and girlfriends of F1 drivers
Keep up to date with all the F1 news via Facebook and Twitter