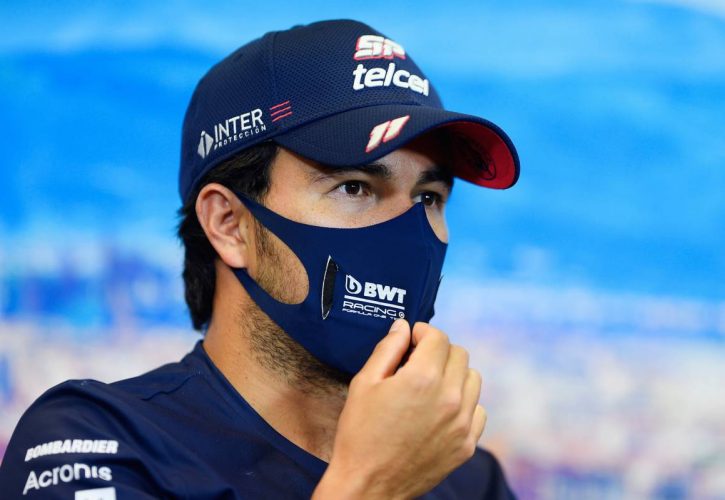 Sergio Perez says he only learned yesterday of Racing Point's decision to part with his services and hire Sebastian Vettel, insisting "nobody told me anything".
Racing Point released the news of Perez's departure at the end of the current season late on Wednesday, subsequently confirming Vettel's move to the Silverstone-based team for 2021 on Thursday morning.
Perez held a valid three-year contract with the team that was set to run until the end of 2022 but that obviously included an early termination clause, likely linked to a financial compensation.
But the Mexican had repeatedly said that all signs pointed to him remaining with Racing Point, or Aston Martin Racing, for the foreseeable future. But then came a phone call yesterday from team owner Lawrence Stroll who informed Perez that the team would be going in "another direction" from next season.
"Nobody told me anything, but I already knew and figured out a couple of things," Perez said at Mugello on Thursday. "Final confirmation came yesterday.
"It's fine. Seven years with the team, I know everything has a beginning and also an end. We still have nine races to make each other proud."
Regarding the confidence he expressed about his future with Racing Point over the summer as the speculation involving Vettel ramped up, Perez said it was simply based on his ongoing exchanges with his team.
"That was the feedback that I was getting, that the team wanted to keep me and so on," Perez explained.
"There were some discussions in the background about contracts and so on, that I'm not willing to disclose because I think those things should remain between the team and myself.
"There were a couple of things in the contract that we went through. In the end, they officially told me yesterday that I'm not continuing.
"I didn't expect that. It is how it is."
Perez admitted that some advance notice from Racing Point would have perhaps allowed him to work on a plan B for 2021, the 30-year-old seeking a good package and preferably a long-term project in F1.
"I understand it, it's the negotiations going on. They probably took longer than I thought," he said.
"Probably a bit more clarity would have helped regarding my future as well. Then I would have looked for a plan B, which probably wouldn't have changed anything.
"My main target is to remain in F1. I feel that I'm still very young and hungry and want to carry on in Formula 1," Perez said, speaking about his future.
"But it has to be the right package. A package that really gives me the maximum motivation to give my 100% every single lap.
"It's also got to be a long-term project, targeting 2022, because there I expect the rule change to play a major effect. That's the main reason that I want to continue for '22, because I feel there are plenty of opportunities.
"I don't expect to make a decision any time soon. I will take the time that I require. If I don't find anything attractive in F1, I would think about other series, other things, we'll see."
Gallery: The beautiful wives and girlfriends of F1 drivers
Keep up to date with all the F1 news via Facebook and Twitter