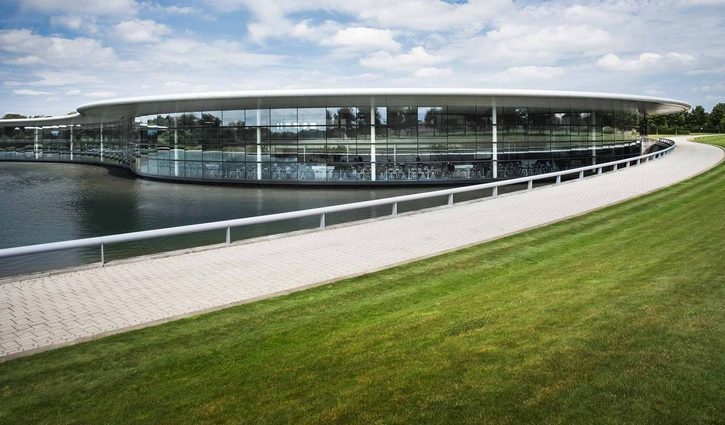 The McLaren Group is reportedly seeking a sale and leaseback of its Woking headquarters in a bid to further shore up its finances by approximately £200 million.
McLaren, which raised capital earlier this year following the onslaught of the coronavirus pandemic, has mandated property agent Colliers to seek a buyer and leaseback deal for its Norman Foster-designed McLaren Technology Center.
According to Sky News, the group has also appointed Goldman Sachs and HSBC to advise on a further equity raise and debt refinancing expected to take place next year, a strategy that could include the sale of a minority interest in McLaren Racing, the entity that oversees the F1 team.
"The potential sale and leaseback of our global headquarters and the appointment of banks to advise us on a debt restructuring and equity raise are part of the comprehensive refinancing strategy announced earlier this year," a McLaren spokesperson told Sky News.
"Building on the shorter-term measures we put in place over the summer, these initiatives will deliver a stronger balance sheet and ensure McLaren Group has a sustainable platform for long-term growth and investment.
"The proposed sale and leaseback mirrors best practice among leading companies and will have no impact on our day-to-day operations."
"The McLaren Campus, comprising the McLaren Technology Centre, McLaren Production Centre and McLaren Thought Leadership Centre, is an iconic, world-class facility that will remain our home in the future."
McLaren Automotive has been hit hard by the disruption caused by the COVID-19 pandemic, the effects of the crisis impacting all of the group's departments.
However, McLaren F1 has turned around its fortunes on the race track in the wake of its technical and financial restructuring, spearheaded by major shareholder Mumtalakat, Bahrain's sovereign wealth fund.
Gallery: The beautiful wives and girlfriends of F1 drivers
Keep up to date with all the F1 news via Facebook and Twitter