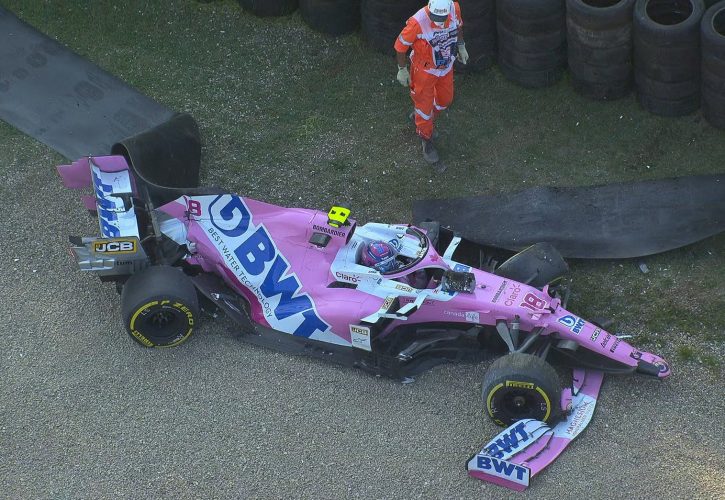 Racing Point's Lance Stroll believes a puncture or a suspension failure caused his high-speed crash in Sunday's Tuscan Grand Prix.
In the midst of a solid drive, Stroll was battling for a spot on the podium, just trailing Daniel Ricciardo, when a rear-end failure on his RP20 pitched the Canadian into the barriers at Mugello's flat-out second Arrabbiata corner.
Stroll fortunately emerged unscathed from the crash that brought out the third red flag of the day but rued the incident that denied him a chance of fighting for a spot among the top three.
"It's a shame I couldn't bring it home today," Stroll said. "I don't know if it was a puncture or a suspension failure, we have to look into it.
"It felt like a puncture but at that speed it's so hard to tell what it was. We'll do some investigating and find out."
"We had great pace and we were on for a podium. We were hunting down Ricc and it was going to get exciting there at the end..."
Racing Point team boss Otmar Szafnauer believes a piece of debris could have caused Stroll's sudden demise.
"So initially Lance thought it was a puncture, that's what he reported to us," Szafnauer told Sky F1.
"We immediately looked at the tyre pressure and for sure the tyre pressure was at zero, but that was after he already hit the barrier so not before. We got to find out what it was.
"Thereafter I saw exactly what you saw and Lance did too, and he thinks it may have been a bit of carbon debris that could have gone into his left rear and caused the puncture, and then the spin."
Stroll was the beneficiary of an aero update on his RP20 at Mugello, but Sunday's crash will require some overtime work by Racing Point's crews to ensure that both its cars have the update implemented in time for the Russian Grand Prix at Sochi.
"He did have the upgrade so now I don't know," Szafnauer commented. "We're going to have to do a lot of work to get the parts together so both of them have the upgrade in Russia."
Gallery: The beautiful wives and girlfriends of F1 drivers
Keep up to date with all the F1 news via Facebook and Twitter