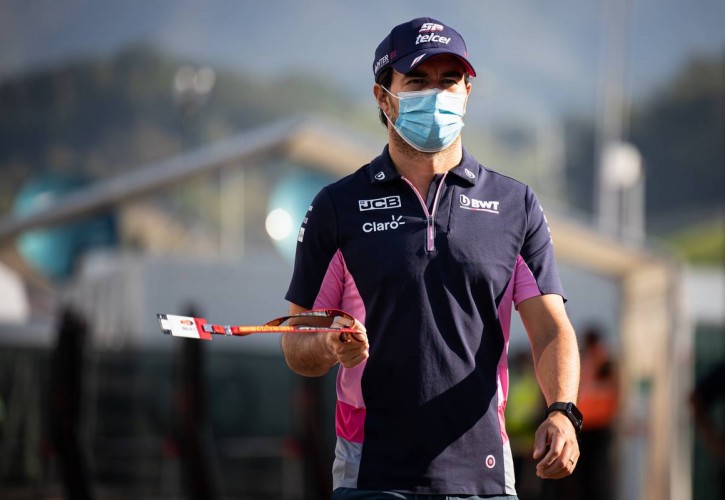 Sergio Perez admits that leaving Racing Point at the end of this season knowing that the team will have a great car in 2021 "hurts a bit more".
Speculation regarding Racing Point's driver line-up for next season was put to rest last week when the Silverstone-based team announced Perez's departure from the pink outfit at the end the current campaign and his replacement by Sebastian Vettel.
Formula 1's regulation restrictions for 2021 means that teams will race next year with the same chassis as this season, a status quo that bodes well for Racing Point and its competitive RP20.
Alas, Perez won't reap the benefits of the RP20's ongoing development in 2021.
"I know I'm leaving a great car that is looking great for next year," Perez said, quoted by Motorsport Week. "Definitely the team will be stronger next year than this year.
"In that regard it hurts a bit more that you know you're leaving a good car. But you never know in the future, things in Formula 1 change so quickly.
"Let's see what the future holds for the world, for both of us."
Perez's future in F1 is linked to available seats at Alfa Romeo and Haas, with Nico Hulkenberg - who replaced the Mexican at Silverstone's double-header last month when the Racing Point driver tested positive for Covid-19 - also a potential candidate for a drive at those two teams.
However, McLaren has also shown an interest in the 30-year-old should he be interested in a move to IndyCar.
But F1 chief Ross Brawn says Perez deserves to remain on the grid in 2021.
"Sergio now finds himself on the move after a very long period with this team," Brawn said in his Mugello debrief.
"He must have very mixed emotions. However, he's a very fast racer who is driving at his peak right now and deserves a place on next year's grid.
"Hopefully he can find the right opportunity and start a new adventure."
Gallery: The beautiful wives and girlfriends of F1 drivers
Keep up to date with all the F1 news via Facebook and Twitter