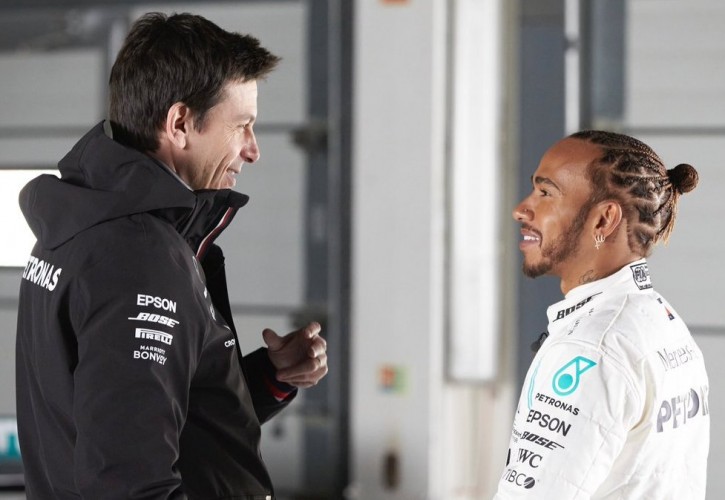 Mercedes boss Toto Wolff says his relationship with Lewis Hamilton hasn't always been clear sailing but insists the difficult times have only strengthened their bond.
Mercedes is inescapably on its way to a seventh consecutive world championship this season, a remarkable track record overseen by Wolff's diligent management and largely built on Hamilton's equally exceptional talent.
Oddly, both Wolff and Hamilton have yet to commit to Mercedes' future beyond the end of 2020, although an extension of the pair's respective contract appears to be - by their own admittance - a mere formality.
However, Wolff - a 30 percent shareholder of the Mercedes F1 team - has hinted at taking a step back from his day-to-day involvement with the German outfit.
Hamilton has said that in the past that he would consider his future with the Black Arrows outfit in light of Wolff's own plans. So are the two most important pieces of the Mercedes puzzle inexorably linked?
"We have something special because we have a very strong bond that has grown over the years," Wolff told Sky F1's Natalie Pinkham.
"We had some difficult times, not sharing opinions, but we have somehow been able to overcome these difficult times and grow together and stronger.
"Both of us have realised that when push comes to shove we trust each other. That's very special.
"At the end of the day, I love working with him and I think he enjoys working with me and I think together - plus the other 2000 team principals [at Mercedes] - we can achieve a lot.
"But if one of us would call it a day for whatever reason the team is going to continue to perform. We would miss the best driver, clearly.
"On the other side if one of us, including myself, decides to go, the team is going to have the same performance, not an inch less. And I think we recognise that, although we want to stay together."
Wolff's responsibilities at Mercedes will likely undergo a few changes for 2021 although he'll presumably still be standing most at the majority of the races.
For the successful Austrian, who has been at the helm of the Brackley squad since 2013, taking a step back isn't just about spending more time with his family after a frenetic eight years on the road.
It's also part of organizing a timely exit in accordance with his personal motivation and proper planning of the future.
"I think I'm going to mix it up a little bit," he said. "What I always said is you need to realise where the point comes from very good to good, because then you can't contribute anymore to an organisation's performance.
"I don't feel that this moment has happened yet, but in our team we look ahead. We look at senior leaders and the potential of young ones coming up.
"We don't want to create a bottleneck for talent to prosper and this is why far in advance we are already looking at every position."
"It doesn't mean I'm quitting as team principal, but I'm looking ahead further down the road.
"I'm a shareholder and co-owner of the team so I wouldn't say that's it and I'm out of here, on the contrary - I'm just contemplating.
"But while the fun lasts we're going to stick."
Gallery: The beautiful wives and girlfriends of F1 drivers
Keep up to date with all the F1 news via Facebook and Twitter