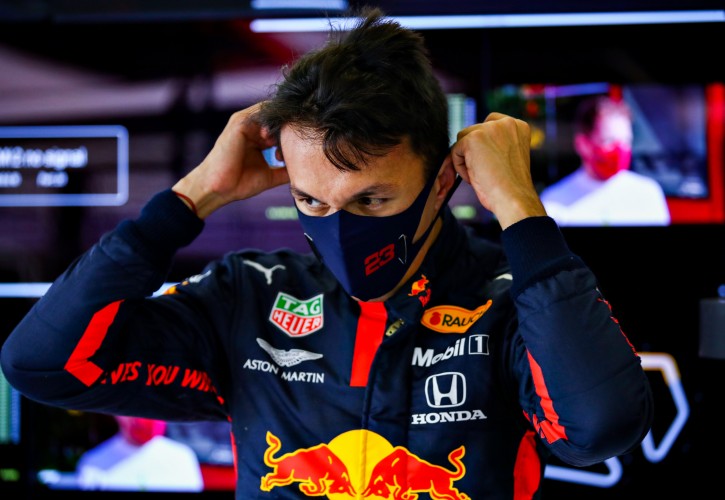 Red Bull team boss Christian Horner has turned up the pressure on Alex Albon, saying the British-Thai racer will need strong weekends in Portugal and at Imola to secure his 2021 seat.
After clinching his maiden F1 podium at Mugello, Albon's prospects for 2021 were brightened. But weak performances in Russia and in Germany have called into question once again the 24-year-old's ability to inch closer to teammate Max Verstappen.
Horner has now put his driver's back against the wall, hinting that his future with the Milton Keynes-based squad might well depend on his performance in the next two races.
"We want Alex to claim that seat and basically justify that there is no need to look at any other alternative than Alex," Horner said.
"I think everybody in the team wants him to see him do that. And it felt like in Mugello it was starting to turn a corner and so on.
"He's had a couple of difficult weekends. So he needs to bounce back here I think, and particularly Imola, with a strong, strong weekend from start to finish.
"So that's our focus. That's our objective. As I say, he's a popular member of the team. But we need two cars closer together in order to fight in order to fight the Mercedes, and that's what we've got to do. That's our target."
Horner also confirmed that should Albon need to be replaced for 2021, the team would look outside its current pool of drivers, a comment that will likely disappoint AlphaTauri's Pierre Gasly and boost the hopes of free agents Nico Hulkenberg and Sergio Perez.
"I think AlphaTauri are pretty settled with their drivers. As I say, our preference is very much Alex," Horner said.
"But if we had to look at a different solution, then obviously, we would have to look outside of the Red Bull pool of drivers, simply because there's not one available that we would look to put in.
"And there's some quality drivers, obviously, on the market that could be unemployed for next year."
Gallery: The beautiful wives and girlfriends of F1 drivers
Keep up to date with all the F1 news via Facebook and Twitter