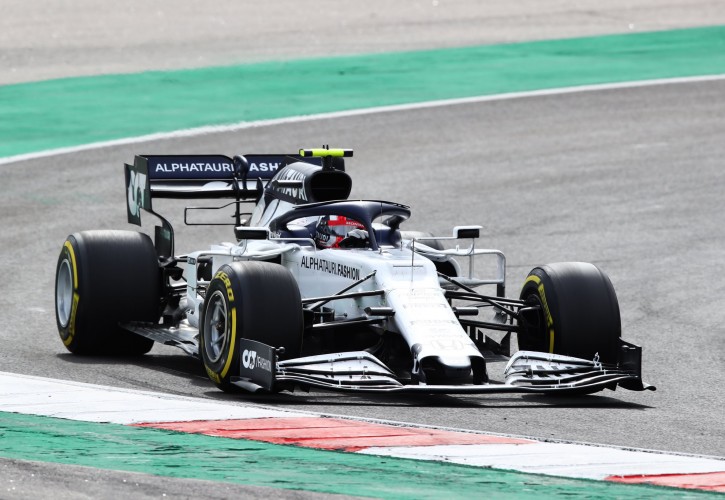 Pierre Gasly's weekend in Portugal ended much better than it started, with the AlphaTauri driver recovering from a fiery setback on Friday to put a P5 finish on the board on Sunday.
Gasly's AlphaTauri crew was forced to put in a sleepless night on Friday to prepare a new chassis for the Frenchman after an engine fire suffered during free practice has extensively damaged his race car.
But a spirited drive on Sunday afternoon during which the Italian GP winner dispatched his midfield rivals in spectacular style - save for Ferrari's Charles Leclerc - was a just reward for Alphatauri's hard work.
"We were very competitive, I must say I really enjoyed the race," Gasly told Sky F1.
"It was very entertaining inside the cockpit; really happy we managed to pass the Renaults, the McLaren, the Racing Point of Sergio, especially after all the work the guys had on Friday night.
"They slept one hour, so everybody was really tired after rebuilding a full new car. So really pleased to give them back this fifth place."
Gasly admitted that the chassis change undertaken by AlphaTauri on Friday had perhaps led to a better car, which isn't always the case stressed the Frenchman.
"When you change chassis you always think it can go either way," he explained. "It can either get worse or better. If anything that one seemed to work pretty well. It's always good to confirm straight after a good result with a new chassis."
The productive result achieved in Portugal will have delivered another boost to Gasly's stock, and fueled more talk about a return to Red Bull Racing, although RBR team boss Christian Horner is dismissing - for now - another swap between Gasly and Alex Albon.
"At the end of the day, Red Bull decide what they want to do with the drivers," said Gasly, when asked on his prospects for 2021.
"On my side the only thing I can do is to perform. Obviously, performance is not the only criteria to be in F1. That's out of my control.
"The only I can do is put in strong results. Hopefully I will get rewarded at some point."
Gallery: The beautiful wives and girlfriends of F1 drivers
Keep up to date with all the F1 news via Facebook and Twitter