Pirelli F1 boss Mario Isola says that a flexible strategy will be key to securing a good result at this weekend's Emilia Romagna GP at Imola.
In addition to the timing constraints associated with the two-day weekend, the Autodromo Enzo e Dino Ferrari, where F1 will race for the first time since 2006, will also provide its fair share of challenges.
In contrast to most tracks, Imola is an anti-clockwise layout that is quite narrow in places, which will increase the difficulty of overtaking, therefore putting a strong emphasis on strategy.
Imola's reasonably smooth surface - although bumpy in several areas - doesn't put high demands on tyres, a trait that justified Pirelli's choice to supply a middle of the range selection of compounds, specifically the C2, C3 and C4 rubber.
But the weekend, compressed into Saturday and Sunday, with only a single 90-minute practice session to allow teams to get up the speed, will look quite different from previous rounds.
"This weekend at Imola, there's going to be a lot to get used to in a short space of time," commented Isola.
"After travelling back from Portugal the teams have to cope with a new race weekend format and reduced practice time on what will be a brand new track for most of the drivers – although inadvertently, they practised this exact scenario at the Nürburgring recently."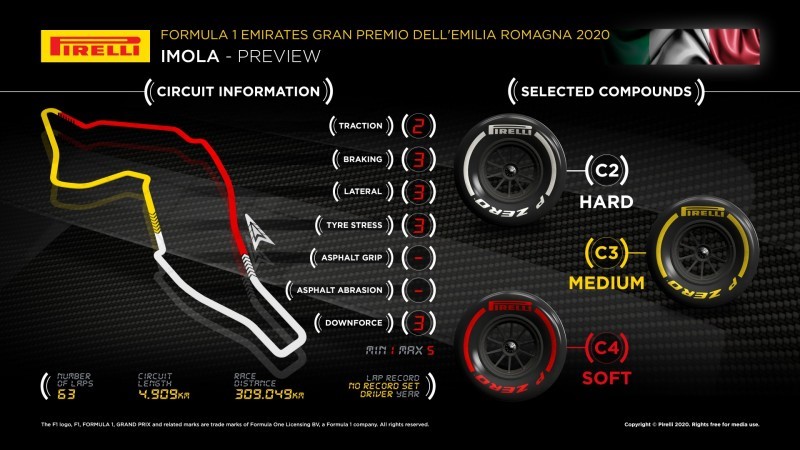 Isola compared Imola to Mugello, with both venues' layouts sharing a traditional, "old-school" feel that should appeal to drivers.
"As you would expect on a circuit with so much history, Imola has an old-school feel to it like Mugello, and we believe that the drivers are going to love racing there.
"Finding the right set-up as quickly as possible is going to be key to success, as the technical nature of the track means that a number of important compromises have to be made, so it's always tricky to find the right balance.
"Overtaking could be quite tricky and the weather at this time of year is unpredictable, so strategy is set to play an important role – but that strategy has to be flexible enough to adapt itself to changing circumstances."
Gallery: The beautiful wives and girlfriends of F1 drivers
Keep up to date with all the F1 news via Facebook and Twitter