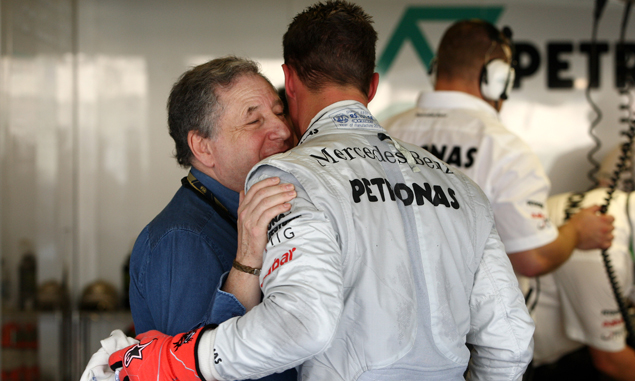 FIA President Jean Todt admits that seeing former driver and close friend Michael Schumacher in his current situation is "painful".
The seven-time world champion suffered severe head injuries in a skiing accident in December 2013. He spent six months in a coma before returning home in July 2014 to continue his recovery. Since then, updates on Schumacher's condition have been very limited, with his manager recently having to deny a report that said the German could be aided in walking.
Todt saw Schumacher win five consecutive Drivers' titles at Ferrari (2000-2004) during his tenure at Maranello and considers him family. The FIA president was also close to Jules Bianchi through his son Nicolas, who managed the late French driver.
Speaking to the annual Sid Watkins Lecture on motorsport safety at the Autosport show, Todt confesses the past two years have been difficult.
"I will not compare them," he said. "I knew Jules through my son, who was his manager. It is terrible to lose someone in an accident.
"For Michael is it different because he was like my family. When you have someone who is family, who is very close, when they are injured it is painful and you have to be with them."
Todt recently met Pope Francis to talk about the challenge of global road safety, and said he had asked him to say a prayer for Schumacher's health and recovery.
Feature: Assisting an F1 team... from a distance