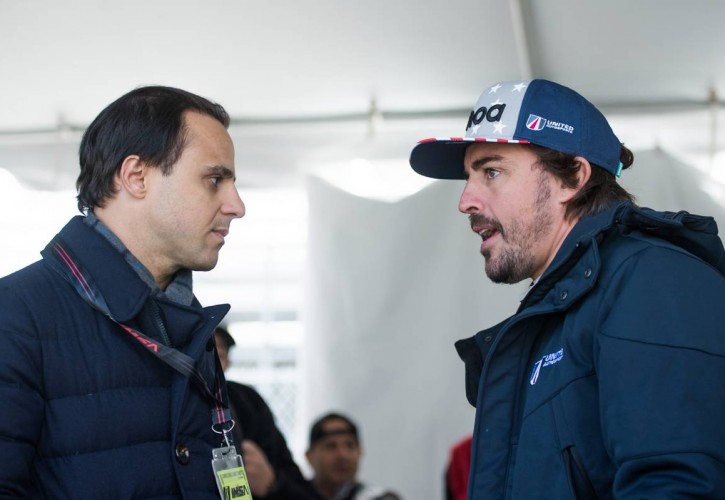 F1 veteran Felipa Massa says a 40-year-old Fernando Alonso could struggle to measure up against the sport's talented young guns when he returns to the grid next season.
Alonso will return to the fray in 2021 following a two-year absence from the grid, the Spaniard committing to a two-year deal with Renault, the team to which he delivered to world consecutive titles in 2005 and 2006.
Alonso enjoyed a limited program of racing after leaving McLaren at the end of 2017, taking part in the WEC with Toyota and tackling the Indy 500 as well as the Dakar rally raid.
But Massa believes Alonso's 24-month absence from F1 coupled with his age could weigh on the Spaniard's prospects, although his abundance of talent could offset the latter.
"Fernando is a phenomenon, a talent difficult to find among drivers," said Massa in an interview with Spain's AS.
"However, it must be remembered that he comes to a team that is not in the top positions and he has been out of F1 for two years.
"It should not be hidden that it can be a negative effect, as happened to Schumacher, who was out for three years and did not return to the level of before.
"Age is also a factor. Fernando will be 40 years old and will fight 20-25 year old drivers.
"Age is a problem, but it must be recognized that Alonso is a talent and can do well. For F1 it is positive that Fernando returns."
Massa reckons there are similarities between Alonso's comeback and Michael Schumacher's return to the grid in 2010 with Mercedes.
In the great German driver's case, results fell short of expectations, with the seven-time world champion's efforts yielding but a single podium finish - the European GP at Valencia in 2012 - in three seasons.
Massa, who raced alongside Schumacher at Ferrari in 2006 and next to Alonso between 2010 and 2014, reckons the latter was a tougher teammate.
"Schumacher was like the teacher, he didn't have that rivalry I had with Alonso for so many years together," Massa said.
"It was a competition of many years and frankly it was more difficult, although it is also true that they were different situations."
Gallery: The beautiful wives and girlfriends of F1 drivers
Keep up to date with all the F1 news via Facebook and Twitter