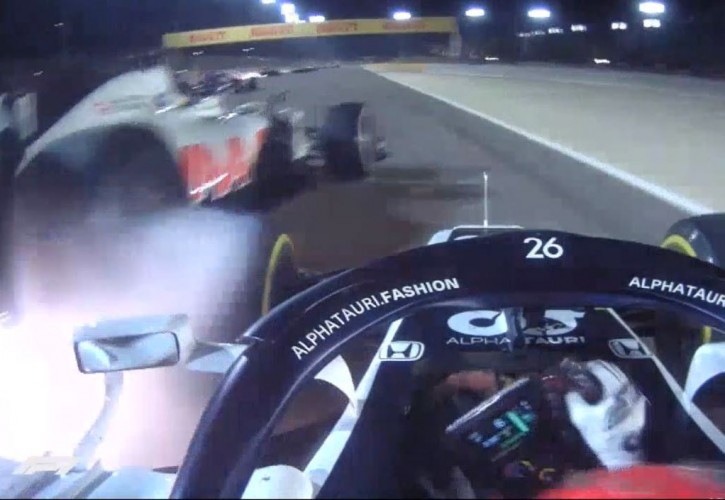 AlphaTauri's Daniil Kvyat said he was initially "angry" with Romain Grosjean following the Haas driver's ill-fated maneuver at the start of the Bahrain GP.
In the commotion of the start, as the field accelerated out of Sakhir's Turn 3 on the opening lap, Grosjean veered right and clipped Kvyat's left front wheel, which pitched the Haas straight into the barrier and into a harrowing crash.
Kvyat, who had nowhere to go as Grosjean moved over on the Russian, fumed over his rival's antics until he saw a ball of fire exploding in his mirrors.
"It was a scary moment," said Kvyat after the race. "I saw him, at first I was very angry that he came across like this, I thought, what is he doing?
"But then my mind changed immediately when I saw in the mirrors the fire. I was just hoping he was OK.
"I immediately didn't like what I saw in my mirrors. I'm glad he's OK, honestly. It really just reminds you what we do is dangerous."
Kvyat's teammate Pierre Gasly was also unsettled by the dramatic incident.
"Initially I didn't know what happened and when I saw the images I was shocked because from my generation I have never seen things like this," the Frenchman told Sky F1.
"In the past I think it was more common, but it was really scary.
"Then when I saw Romain got out of the car already, I was happy to see him jumping out. It's just scary, I had no idea a Formula 1 car could break that way and especially go through the barrier.
"So the Halo proved to be really working in that particular occasion. I sent him a text during the red flag just wishing him for a good recovery."
Unfortunately, there was more to Kvyat's eventful evening in Bahrain. The Russian was handed a 10-second penalty and two penalty points on his licence for a contact with Racing Point's Lance Stroll that sent the Canadian head over heels at Turn 8.
Kvyat hit back at the steward's decision, insisting Stroll knew where he was positioned but did not leave him enough space.
"I don't share the stewards' view on that," said Kvyat, who finished just outside the points. "I think I had nowhere to go. I already put my whole car on the inside kerb.
"He, on the other hand, he knew I was in there, but he turned in as if I wasn't there.
"So I'm a bit upset at this decision, it's kind of ruined my race because I had a great second start, I was again back in the game, but this penalty just ruined everything."