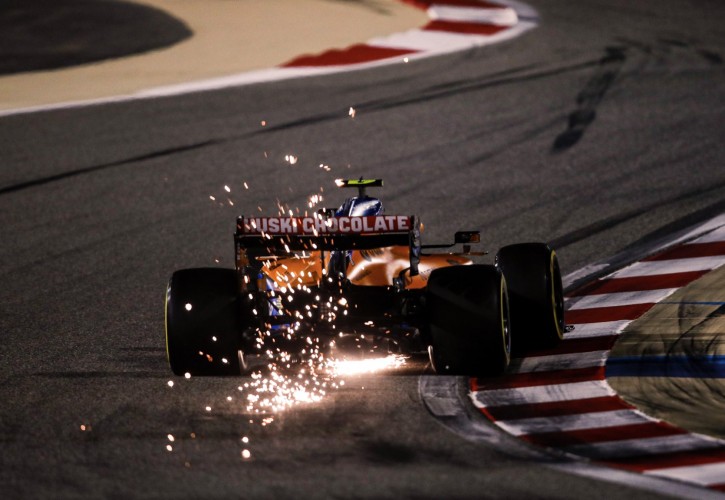 McLaren's Carlos Sainz says Sakhir's outer loop which is being used for the first time by F1 this weekend forces traffic challenges upon drivers that are "on the limit of dangerous".
Drivers took to Bahrain's alternative 3.543km layout in practice on Friday and while there were no incidents to report, it became clear that a 54-second mad dash around the short eleven-turn configuration will lead sooner or later to a hairy moment.
In F2 qualifying earlier in the day, series leader Mick Schumacher and Roy Nissany collided in spectacular fashion.
Sainz believes the FIA should consider changes to ward off the risk of a serious accident occurring, especially in qualifying when drivers are travelling at different speeds.
"We're going to talk about it in the drivers briefing," said Sainz after Friday's second free practice.
"We need to find a way to make sure it doesn't become dangerous, because at the moment, it's a bit on the limit of dangerous.
"It's tricky. I mean, we're all trying to be as sensible and as safe as we can, but this track is offering us some challenges in terms of traffic management.
"I think that there's some ideas that as teams and drivers we put out there to the FIA to make it easier around the chicane in the middle sector, but we need to find a solution because I think it's on the limit of getting a bit dangerous."
Red Bull's Max Verstappen, who was second fastest on Friday behind Mercedes' George Russell, also wasn't impressed with Sakhir's outer loop.
"It's not the most exciting [track] to drive to be honest," said the Dutchman. "Also, because of the small track, the radio is constantly open with: 'be careful here, traffic there.'
"And also, especially in the second sector, it is quite blind with a lot of corners. It's quite dangerous around there."
AlphaTauri's Daniil Kvyat suggested that qualifying should perhaps be split into two groups to avert congestion in the Saturday evening session around the "tight and narrow" track.
"The traffic might become a bit of a lottery," said the Russian. "So we need to speak tonight to drivers about what to do because it might be a bit strange.
"I don't know, maybe we can split into groups. We will see. But it's too tight and narrow for us."
Ferrari's Sebastian Vettel is also apprehensive of the how the situation will play out in qualifying.
"The whole track is short, obviously, and there will be the same amount of cars, so I guess Q1 will be very tight," the German commented.
"The other thing that doesn't help is we have to go really slow in the cool laps to bring the tyres [temperatures] down. That's probably the worst factor.
"One thing is looking for traffic, the other one is having such a big speed deltas.
"So it will be a mess. I hope that nothing happens and we all go through without being impeded or having trouble with traffic."
Gallery: The beautiful wives and girlfriends of F1 drivers
Keep up to date with all the F1 news via Facebook and Twitter