Red Bull motorsport boss Helmut Marko believes that Sebastian Vettel's crash while leading the 2018 German GP triggered the four-time world champion's fall from grace at Ferrari.
Vettel finished twice runner-up to Lewis Hamilton in the F1 world championship during his spell with the Scuderia, in 2017 and 2018, with a lack of consistency and mistakes ultimately depriving team and driver of the title.
In the summer of 2018, Vettel and Hamilton appeared to be on course for a showdown in the championship, but the German driver's exit at Hockenheim was a painful setback that led to a confidence crisis for Vettel, and one that only got worse over the following two seasons according to Marko.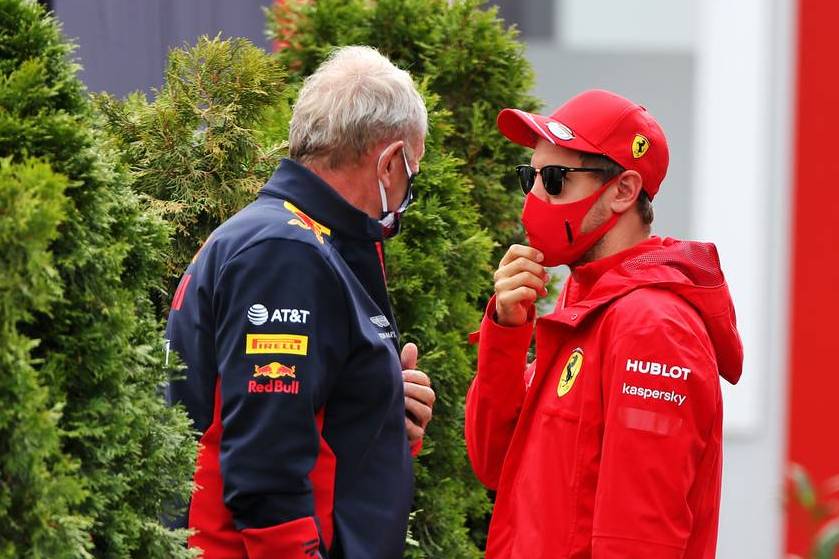 "I think it's an insecurity that started in my eyes with the crash at Hockenheim in 2018, while leading," Marko told Motorsport.com.
"At that time Arrivabene was still team principal. From then on, the relationship with Ferrari has gone from bad to worse.
"How far he was disadvantaged in terms of material, I can't say, but it has to be said that he made far too many mistakes on his own.
"With this crash, the uncertainty set in, and the driving was then very often not at a Vettel level."
Last spring, Scuderia boss Mattia Binotto unexpectedly informed Vettel that he no longer figured in the team's plans from 2021.
Charles Leclerc and Carlos Sainz will lead the Italian outfit's charge while Vettel will enjoy a beneficial change of environment as he opens a new chapter in his career with Aston Martin.
"I am extremely enthusiastic about the project and I can't wait to start working actively. Nobody can give you guarantees, but the term curiosity already contains a lot of positive energy and I trust this," said Vettel.
"My relationship with Ferrari did not work out for a number of reasons and this also leads to the initial euphoria being exhausted."
Gallery: The beautiful wives and girlfriends of F1 drivers
Keep up to date with all the F1 news via Facebook and Twitter