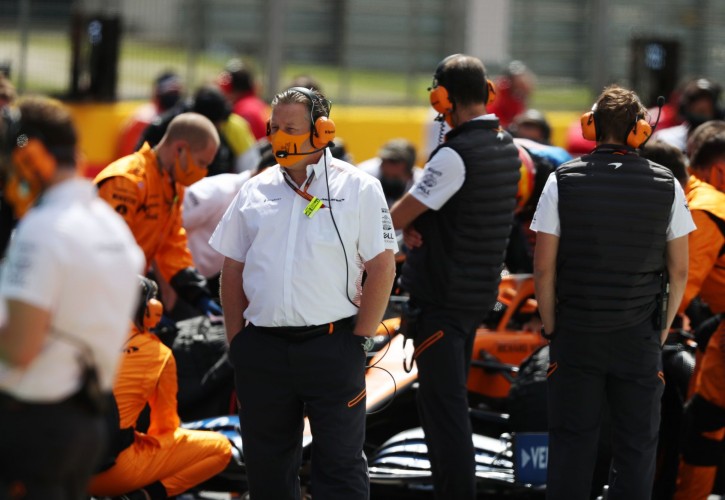 McLaren CEO Zak Brown has been talking about the 'unhealthy' state the team found itself in by the end of 2016 during its ill-fated, short-lived partnership with Honda.
When Ron Dennis departed as team principal following a boardroom power struggle, Brown came in as executive director and found a dispirited workforce at a very low ebb.
"What I walked into was a team very much on the decline in almost every aspect," he told Motorsport.com this week. "Race results, the facts are the facts: we were ninth in the championship.
"That then manifested itself into a very unhappy workforce, so when you walked around the shop, heads were down, not up."
McLaren had also lost most of its high profile sponsors and "was down to almost a blank car". But Brown insisted that the decline was not any one individual's fault.
"There's not a blame game here," he insisted. "But you had a revolving door of leadership, starting at the top. You had a well-documented and publicised shareholder battle.
"That just manifested itself into a very unhealthy environment," he admitted. "I've always kind of felt like McLaren is Star Wars, but we became a bit Darth Vader and I think we needed to be a bit more Luke Skywalker.
"What I tried to do is get the right people in the right place, simplify the organisation, focus the organisation, and try and be a warmer organisation."
Among the key staff decisions Brown made was hiring Andreas Seidl as team principal and James Key as technical director.
One of the most visible changes Brown made was to introduce the eye-catching papaya livery. "We really tried to turn the attention of the team and the brand into what do people want out of McLaren?"
"By getting I think the right people in the right place, focusing the organisation, and bringing some energy and change, we're now starting to see that all working."
From those dark days, McLaren finished the 2020 season in third place in the constructors championship thanks to the combined efforts of Carlos Sainz and Lando Norris.
Sainz departed for Ferrari at the end of the season but his place will be taken by the experienced and talented Daniel Ricciardo. Meanwhile the team has raised new investment allowing it to upgrade its facilities at Woking.
"We have everything we need now," Brown said. "Whether that's drivers, team principal, technical director, power unit, sponsor partners, investors, the resources.
"But it's going to take more time to gel," he cautioned, pointing out that it took a while for the Big Two teams ahead of them to get into their stride.
"It took [Mercedes] a little bit of time to build that momentum to get there - then once they got there, they're hard to knock off the top of the mountain.
"Before that, it was Red Bull. It took them a little bit of time to get there," he added. "This is a momentum business. I think we have good momentum, but we still have a long way to go."
Gallery: The beautiful wives and girlfriends of F1 drivers
Keep up to date with all the F1 news via Facebook and Twitter