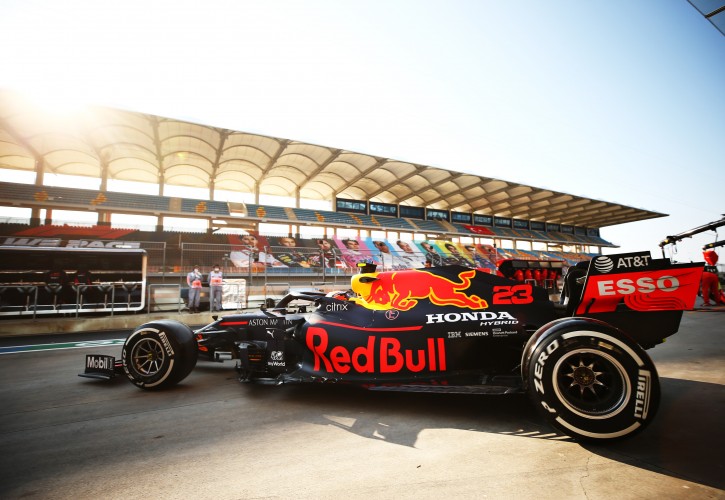 Formula 1 is set for a crucial vote today that will decide whether the sport puts a freeze on engine development from 2022 and trials a trio of Saturday sprint races this season.
Votes shall be cast this afternoon during a virtual meeting of the F1 Commission. While a variety of topics are on the group's agenda, the engine freeze and the fate of the sprint race concept will be at the forefront of discussion.
Red Bull is pushing for a halt on engine development from next season until the end of the current power unit cycle which will conclude in 2026 at the latest, arguing that a freeze is its only viable solution to bring Honda's engine program in-house at Milton Keynes as it cannot afford a costly development war.
Mercedes says Red Bull's request is a sensible proposal while Ferrari has offered its conditional support for the initiative. Renault however is against curbing development as it would likely leave its own power unit trailing its rivals in the future.
The idea of enforcing an equalization - or a convergence - of performance between all engine suppliers has been tabled, but Mercedes, mindful of preserving its current edge, has given the idea a thumbs down.
If the manufacturers fail to find a common ground Renault would be compelled to supply Red Bull from 2022, a prospect that excites neither party.
The second topic heading Thursday's agenda is the proposal to trial a series of three Saturday sprint races at the Canadian, Italian and Brazilian GPs.
The concept was tabled last year but was dismissed - along with the reverse-grid concept that has been permanently binned - by Mercedes. But the German manufacturer is said to be open to a short 100km sprint race on Saturday that would replace qualifying but determine Sunday's grid positions.
To pass, the proposals will require a super majority 28 votes out of 30, with each of the sport's ten teams holding a vote and ten votes awarded to both F1 and to the FIA.
Trialing the concept this season would allow for a proper assessment and the possibility of a wide-spread use in 2022.
The F1 Commission is also expected on Thursday to confirm Portimão's presence on the 2021 calendar as the third race of the season.
However, the event's May 2 date could still be considered as provisional as Portugal continues to struggle with the coronavirus pandemic in the country, a difficult situation that has compelled the UK to put the country on its "red list".
That status would force F1 staff based in the UK to quarantine for two weeks upon their return from Portugal, a requirement that would in turn restrict travel to the following races in Spain and Monaco.
Gallery: The beautiful wives and girlfriends of F1 drivers
Keep up to date with all the F1 news via Facebook and Twitter</