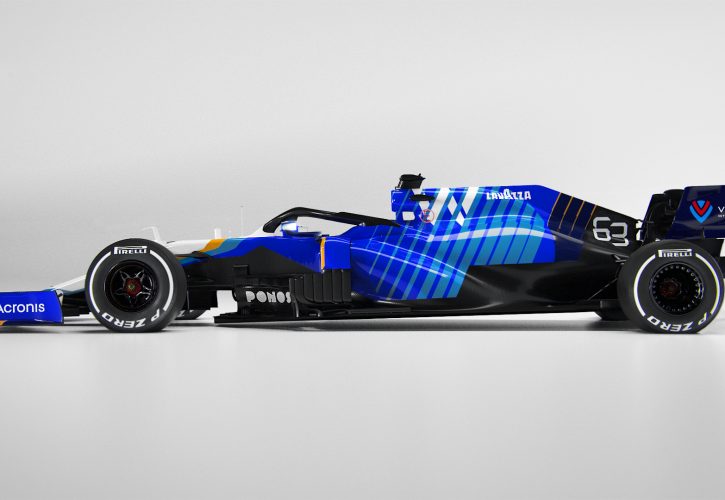 Williams Racing heads into pre-season testing next week in Bahrain "in good shape" according to team boss Simon Roberts, thanks to a drama-free car build and a few development options that shall be available at the outset for its FW43B.
The Grove-based squad has enjoyed a productive 2021 preparation period, free of the troubles or shenanigans that have undermined its run-up to a new campaign in the past.
The timely completion of its 2021 challenger followed by an early shakedown bode well for Williams, as does the development of its FW43B which the team hopes will allow it to fend off its rivals in the lower tier of F1's midfield.
"It's been busy, but we're in really good shape," said Roberts who took over the reins of the British outfit from Claire Williams following the team's acquisition by new owner Dorilton Capitol.
"I've never done a car build like this, where we've actually been able to build all the chassis before they go in the freight, we've done a shakedown, we've done the filming. It's all gone to plan.
"It's really, really nice to be able to tick everything off. All those things that you put in your plan and don't always get to do, we've actually done it all.
"So, really, really pleased. It's been a great team effort."
Williams' main efforts regarding its 2021 car have been directed at regaining part of the downforce lost to this year's technical regulations through changes to the car's floor, bargeboards and brake ducts.
But the team's development work has also led to a "super tidy" design that has shed some weight.
"It's quite a unique experience for the whole grid effectively to be carrying over homologated cars," commented Roberts.
"So we all understand our cars, we all know their weaknesses and strengths. And so through the winter, we've put in a huge amount of effort to address those kinds of things.
"So underneath the skin, the car is really super tidy. I'm really, really pleased what everybody's done.
"We've managed to save some weight, which is important. And we have done aero, obviously on the car to try and recover as much downforce as we can because that's what we're all trying to do.
"So, we've learned, and I think we've done the right things, but until we get in Bahrain and do the test, who knows, but that's what we're hoping for."
Contrary to its rivals, Williams has not spent its token allocation on the development of its FW43B. Roberts explained why.
"We spent one of our tokens last year and I'm not going to divulge where we spent it," he said. "That left us with only one over. There wasn't enough to get into the nose or any any of the structures.
"So as you've seen on the release, we're running same nose as last year. And that's where we are.
"So really the homologation didn't help us from that point of view. But it hasn't held us back in terms of developing the rest of the car and taking weight out."
Next week's action in Bahrain will provide Williams with a first look at its performance level. But the team will have a few options to play with at Sakhir in terms of potential upgrades.
"Yeah, we've got some options," he said. "So, we're going with a range of parts that we'll get on the car.
"It's great, it's a nice position to be in. Both drivers will get to try both options and we've got enough parts around us to convert stock for the race.
"It's almost a first race upgrade, which is really really cool, I'm really excited about that. And we actually have got an upgrade plan through the year.
"But it's going to be pretty modest and I expect like other teams we'll be looking very carefully at how we put our resource on that.
"We also have to be realistic. We haven't got the opportunity to suddenly jump a huge way up the grid, but we want to be competitive, racing at the back and we want to put some of the teams around us under pressure.
"I'm in the space now where I just want to get the car out there, get to Bahrain, see some lap times and really check it does what we think it will do."
Gallery: The beautiful wives and girlfriends of F1 drivers
Keep up to date with all the F1 news via Facebook and Twitter