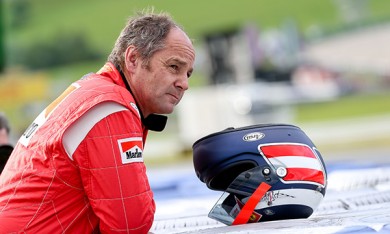 Former Grand Prix winner Gerhard Berger believes Formula 1 is in dire need of a major overhaul if it is to restore its former lustre.
The Austrian, who remains a keen observer and a frequent visitor to the F1 paddock, is calling for a major shake-up to the sport which would put the driver back in control of racing and the entertainment.
"Back in my time a F1 car was like a loose cannon," he told the Salzburg Nachrichten.
"We had 1,400 bhp and didn't have driving aids. But today it's clear after the first corner who will win the race.
"You have to go back to a system where the driver is the key to success in F1. There should only be four or five drivers who are able to pull it off."
Mercedes current cycle of dominance has followed the prosperity and success once enjoyed by Red Bull. And while Berger acknowledges that F1 has often been ruled in the past by a single team he believes that the current era, marked by extraordinary reliability, is different.
"There were dominant teams in the past but we had more retirements, too," he added.
"Nowadays every car makes it to the finish line, there are no surprises anymore.
"Back in the days you couldn't be sure until the end. Even on the last lap of the race you couldn't be sure. And driver errors were punished severely.
"But today, all suspense is gone right after the start and you have huge asphalt run-off areas, where, with a little bit of luck, you don't even lose a position when you go off."
Scene at the Pirelli wet tyre test