Rosberg X Racing dominated the inaugural round of the new off-road Extreme E series, with drivers Molly Taylor and Johan Kristoffersson triumphing in the desert of Al-Ula in Saudi Arabia.
The duo was joined in Sunday's three-way final by Andretti United Extreme E's Timmy Hansen and Catie Munnings and X44's Sébastien Loeb and Cristina Guttierrez.
Andretti's Hansen enjoyed a blistering fast start, pouncing ahead at the outset but the 2019 Rallycross champion was quickly caught and overhauled by RXR's Kristoffersson while Leob was left in the pair's dust.
At the end of the first eight-gate 8.8km circuit, Kristoffersson had built a massive 30-second lead which Molly Taylor consolidated after a flawless stint.
Andretti's Catie Munning held on to P2 while Cristina Gutierrez could do little to improve X44's fortunes in P3.
The moment Molly Taylor took the first ever X Prix victory! 🙌🏆

What a moment for @rosbergxracing @molly_rally @JohanKMS88 🙌#ExtremeE #DesertXPrix pic.twitter.com/OGXzN6AoF4

— Extreme E (@ExtremeELive) April 4, 2021
Rosberg X Racing team owner Nico Rosberg who was on site all weekend to oversee his team's operations was ecstatic with his outfit's maiden Extreme E round.
"That was insane," said the 2016 F1 world champion. "I'm just so thankful to the team this weekend and everything has come together so well.
"Molly and Johan have done phenomenal driving all weekend in such tough conditions. They didn't put a foot wrong and showed unbelievable speed. It is just awesome."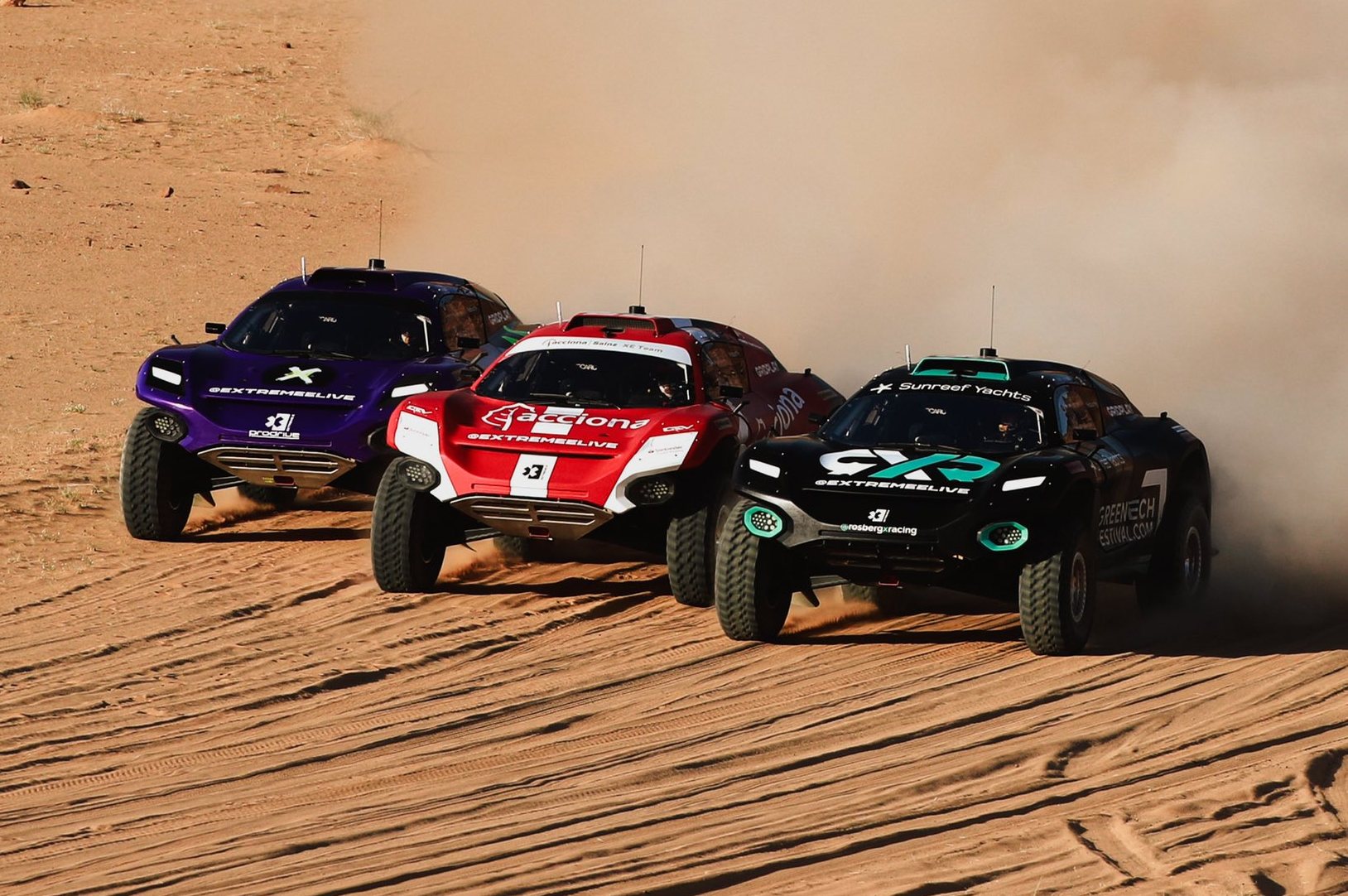 Rosberg X Racing added to its score in qualifying to lead the series with 35 points from Lewis Hamilton's X44 which concluded its weekend in Saudi Arabia with 30 points, while Andretti United lies third in the standings with 28 points.
The second round of the Extreme E series will take place in Dakar in Senegal on May 29-30.
Extreme E championship standings after Round 1:
1. Rosberg X Racing: 35 points
2. X44: 30 points
3. Andretti United: 28 points
4. Acciona Sainz XE: 26 ponts
5. Hispano Suiza: 20 points
6. JBXE: 17 points
7. ABT Cupra: 13 points
8. Segi TV Chip Ganassi: 12 points
9. Veloce Racing: 8 points
Keep up to date with all the F1 news via Facebook and Twitter