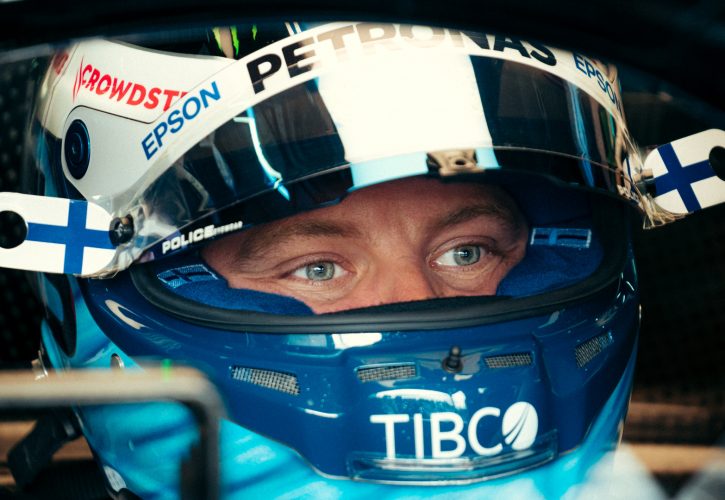 After coming out top in both of Friday's free practice sessions at Imola, Valtteri Bottas went into qualifying hoping to convert that success into at least a front row starting position - if not pole position.
He was fastest of all by 0.151s in the first round, but then started to struggle in Q2 where he was only sixth fastest.
But that didn't prepare him for a further decline in the final top ten pole shoot-out where he finished doen in eighth place while his team mate Lewis Hamilton successfully captured pole.
"P8 is definitely not what I was aiming for today, especially with the feeling at the start of qualifying," he complained after the end of the session.
"Today was a little bit confusing and I don't understand the Q3 performance yet," he said. "Q3 first run, I went into turn 2 and had a really sudden snap from the rear-end.
"It really continued through sector 1, and I lost a lot of time." He said the same thing happened during his second run. "It was never there. I couldn't trust the rear end of the car, and it was something that I didn't feel in the whole qualifying before that.
"I don't know what happened so I need to investigate," he admitted. "For sure, it's disappointing."
He added that the problem had manifested itself more at corner-entry, which was different from the troubles he'd faced in Bahrain last month.
"We need to look first of all that everything was right with the car," he said. "It was more in corner-entry, which I've never really had before."
"We've got a bit of analysis to do to understand Valtteri's issue," commented Andrew Shovlin, Mercedes' trackside engineering director.
"He was looking very strong in Q1 but set his best time on the third lap and couldn't repeat that time for the rest of the session.
"It's not been an easy day by any measure," he said of the team's efforts overall. "We were struggling to get enough temperature for a single lap.
"If you start with the tyres on the cold side, the grip just isn't there and you spend most of the lap sliding around."
Bottas admitted that Imola was not the ideal track to be starting down the grid because of the nature of the circuit making it difficult to pass.
"Overtaking here is difficult with a narrow track, but I will fight to give it everything tomorrow."
Another headache is that Bottas will also be starting Sunday's Emilia Romagna Grand Prix on the medium tyres, and will have to pick his way past those ahead of him starting on the soft compound based on their tyre selections in Q2.
"Valtteri has to make his way through the soft runners, which he will and can, but I think we are a little bit on the backfoot," admitted Mercedes team principal Toto Wolff.
Gallery: The beautiful wives and girlfriends of F1 drivers
Keep up to date with all the F1 news via Facebook and Twitter