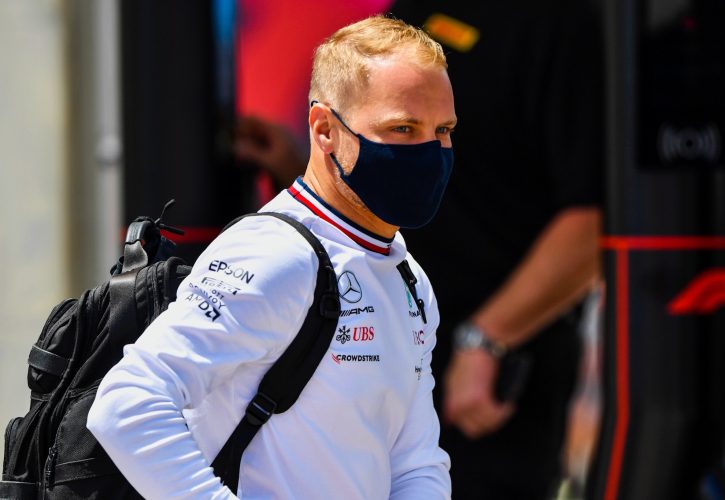 George Russell publicly apologized for his reaction after his collision with Valtteri Bottas in the Emilia Romagna GP, and that was good enough for the Mercedes driver who says the incident is "done and dusted".
The two drivers collided at Imola after an ill-fated maneuver by Russell which sent both cars heavily into the barriers. The upset Williams driver initially pointed the finger at the Finn but on second thought and after reviewing footage of the crash, he reined in his criticism and issued an apology the next day.
Ahead of this weekend's Portuguese GP at Portimão, Bottas said he hadn't spoken with Russell since their run-in, but it was water under the bridge as far as he was concerned.
"I heard about his post and apology, and I read it," said Bottas. "But yeah, to be honest, we haven't spoken after the race, after the stewards.
"I did have a missed call on the Monday morning, but I was still sleeping.
"We haven't spoken, but I'm sure it's the same for George, it's done and dusted. It's history, and there was no decision by the stewards. George apologised, and [it's] time to move on."
At Imola, Mercedes team boss Toto Wolff was critical of Russell's move, saying the Briton "still had a lot to learn". Bottas also spoke with Wolff after the crash but repeated that the incident was "one to forget".
"We had a chat after, just to go through the situation which is normal," Bottas said.
"But apart from that, we agreed [to] take the positives and learn from the negatives and move on. Kind of one to forget really.
"One positive for sure is it was only race two of the season, and there are 21 to go."
Gallery: The beautiful wives and girlfriends of F1 drivers
Keep up to date with all the F1 news via Facebook and Twitter