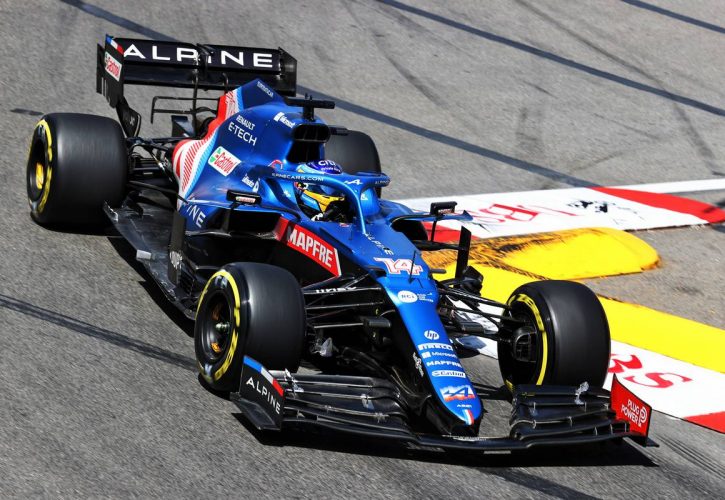 Fernando Alonso sees next month's French Grand Prix at Paul Ricard as the start of "a new championship" following a series of venues that proved challenging for the F1 returnee and Alpine driver.
Alonso's return to the grid after a two-year absence from F1 hasn't been easy for the Spaniard who has been outpaced so far this season by his Alpine teammate Esteban Ocon.
But Alonso believes there are mitigating circumstances to his underperformance, as the string of venues visited so far by F1 – including Portimão, where he had never raced before – has been a difficult selection to tackle in the wake of a comeback.
"Baku is [coming at] a little bit of an unlucky moment," said the Spaniard last weekend, after another subdued performance in the Monaco Grand Prix. "In a way, the start of the season is not the best possible calendar for a new [or] coming [back] driver.
"I had Imola, I had Portimao, two circuits I was not racing on for years, or never, like in Portimao. The guys, they were racing months ago in the championship.
"[There are] two street circuits, Baku and Monaco, so [of] the first six races of the championship, four are extremely challenging to get used to.
"From France, a new championship hopefully starts for me."
After last Sunday's race which he finished P13 after qualifying a lowly 17th, Alonso insisted the low-key performance was mainly due to Monaco's specific characteristics and their impact on tyre temperatures.
"I think the tyres are the main factor in this kind of weekend, especially on a street circuit, you need to switch on the tyre and work in the perfect window on the temperature of the tyre," he said.
"Also qualifying is crucial in the weekend, you need to put this energy and heat into the tyres.
"I don't know how many 'Monacos' we will have because this is a very unique circuit.
"Portugal and Barcelona we were in a better position, so I hope next weekend we can be back to that kind of performance."
Gallery: The beautiful wives and girlfriends of F1 drivers
Keep up to date with all the F1 news via Facebook and Twitter