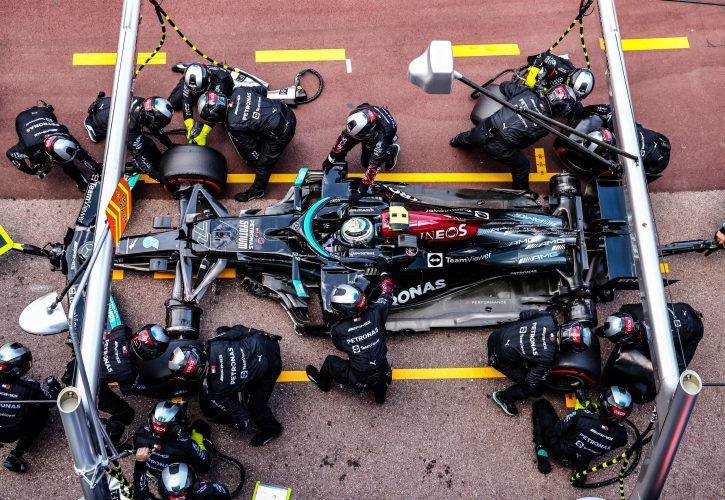 Valtteri Bottas says he was surprised by Mercedes' claim that he had stopped slightly out of position during his ill-fated pitstop in Monaco, and therefore was partly to blame for the incident that caused his demise.
Bottas was running second in the Monaco Grand Prix behind Red Bull's Max Verstappen when he undertook his scheduled pitstop on lap 30.
But a slightly angled wheel gun did not connect correctly with the wheel nut and tore the metal clean off the latter, which made it impossible for the Mercedes crew to remove the wheel.
As a result, the team was forced to retire the car on the spot. Mercedes team boss Toto Wolff later explained that Bottas had "pulled up slightly short of his marks", which in turn led to the awkward wheel gun angle.
Speaking ahead of this weekend's Azerbaijan Grand Prix, Bottas admitted to being surprised by Wolff's comment.
"I was surprised. I saw the video, and for me it was pretty spot on, where I stopped, so I was quite surprised," said the Finn, speaking on a Zoom call on Thursday from Finland where he remained following a flight delay.
Bottas said that a post-race analysis revealed that he had stopped a few centimeters off his mark, which is typically within the maneuver's acceptable margin.
"We analysed, everything in detail and we know that we probably could have done a better job as a team, and with the pitstop of course, you know, it was very normal, debrief from my side," he added.
"Of course I wanted to see all the reports about where I stopped. I think I was like two or three centimetres off the central line. And, if you get that accuracy normally, it's pretty good.
"You know, you can easily swing by 10/15 centimeters, so I thought it was pretty spot on."
Mercedes has suffered a few sub-optimal pitstops this season and Bottas said that he made a point before Monaco of reminding his team that it needed to improve its stops.
"It was one of my concerns already a few weeks ago, that I raised with the team," he said. "So you know it didn't come from somewhere out of the blue, we knew that we are not perfect in pitstops as we've seen.
"And also other areas like tyre warm up in qualifying. I knew coming to Monaco that it is going to be an issue and it was one of the things that I highlighted much before the weekend.
"So it's really all about learning the issue and correcting it. I think the team fully understands it now and we've made corrections for that and hopefully we don't have to experience it again."
Gallery: The beautiful wives and girlfriends of F1 drivers
Keep up to date with all the F1 news via Facebook and Twitter