Formula 1 race director Michael Masi says Spa-Francorchamps remains an up-to-standard and "safe" venue despite a heavy crash that took place at Raidillon during the Spa 24 Hours event.
A four-car pile-up that occurred at the top of the daunting corner last Saturday during the endurance classic was worryingly reminiscent of the dramatic crash that cost the life of F2 racer Anthoine Hubert at Spa in 2019.
Williams reserve driver Jack Aitken, who had triggered the crash, and Ferrari's Davide Rigon were both hospitalized following the massive collision, with the Briton suffering a broken collarbone and a fractured vertebra in the incident.
F3 racer Juan Manuel Correa, who was severely injured in the accident in which Hubert lost his life, called the collision "haunting" and insists he is still raising "various concerns with the FIA and organizers about track and driver safety".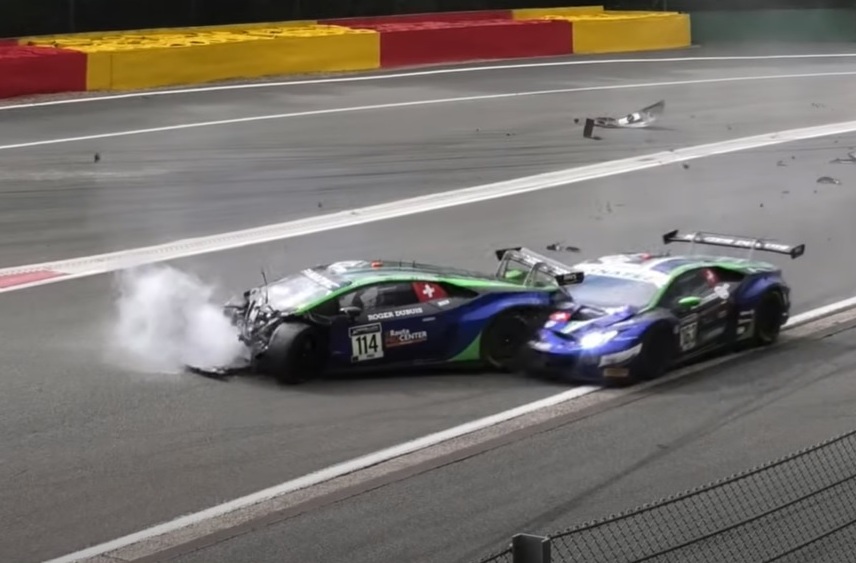 In the aftermath of last Saturday's drama, Alfa Romeo reserve Callum Ilott who was racing at Spa took to Twitter to urge the track to change the Eau Rouge/Raidillon corner.
"Main thing is that everyone is out of their cars," wrote Ilott. "Davide Rigon and Jack Aitken and will be checked at the hospital and I hope all will be good.
"I would also like to say that there needs to be a change at this corner and I'm very surprised nothing has changed yet. Enough is enough."
Spa is currently undergoing a multi-year €80 million renovation centered around its grandstand infrastructure, but the modifications also include several changes to the run-off areas at Raidillon, Blanchimont, Les Combes and Stavelot where gravel traps are set to replace the current asphalt extensions.
Last weekend in Hungary, Masi was asked about Ilott's comments, but the Aussie responded by saying that Spa-Francorchamps remained in full compliance with the FIA's safety standards.
"There has been some works that have been undertaken at Spa in a number of areas," said Masi. "But the Spa circuit holds a current Grade 1 [the FIA licence required for F1 use.]
"There are a few changes and improvements that made year-on-year, but I think the way that it is, it is safe from an FIA perspective.
"None of us like to see big incidents, and I'm just glad that the drivers are relatively okay.
"I've seen a couple of the media reports today and they are good and healthy which is the important part. They've got a recovery ahead of them, but that is the overall aspect there."
Keep up to date with all the F1 news via Facebook and Twitter