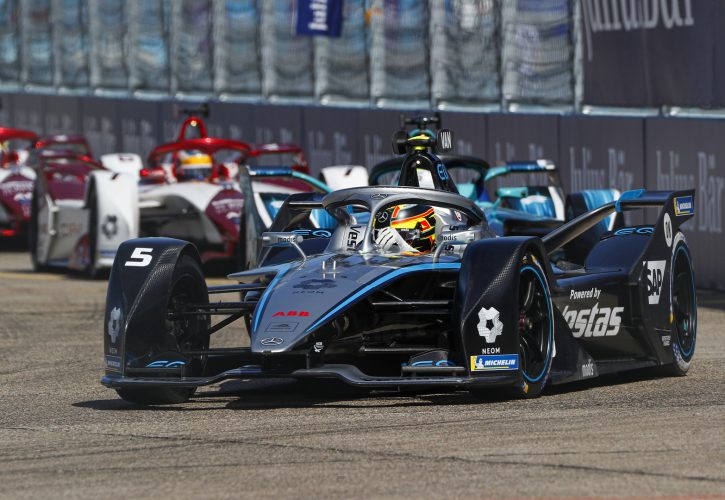 Mercedes confirmed on Wednesday that it will exit the all-electric Formula E series at the end of Season 8, or in August of 2022.
The German manufacturer - which sealed the world FE title last weekend in Berlin with Nyck de Vries - will follow out the door its automotive rivals Audi and BMW after a three-year presence in the series.
"We entered Formula E with an open mind about the series and its innovative approach to motorsport," said Mercedes motorsport boss Toto Wolff.
"A lot of hard work went into building the team and making it competitive – and we have seen an incredible group of talented women and men deliver at the highest level.
"We can be proud of our achievements and especially the double world championship won last weekend in Berlin, which will stand as an historic milestone in the long motorsport history of Mercedes-Benz.
"We will be giving everything to make sure that we finish our Formula E adventure in style in Season 8."
Mercedes stated that it has deliberately chosen to shift resources for its "accelerated ramp-up of electrification" as part of the automobile constructor's new strategic direction.
Mercedes will therefore reallocate resource away from its ABB FIA Formula E World Championship programme and towards "applying the lessons learned in competition to product development in series".
While the German manufacturer's exit from Formula E is another blow to the series after the departures of Audi and BMW, the pull-out also directly confirms Mercedes' commitment to Formula 1 on which it will concentrate its motorsport activities.
"At Mercedes-Benz, we have committed ourselves to fighting climate change at full force in this decade," added Markus Schäfer, Mercedes-Benz chief operating officer.
"This demands the accelerated transformation of our company, products and services towards an emission-free and software-driven future, and to achieve this, we must give full focus to our core activities.
"In motorsport, Formula E has been a good driver for proving our expertise and establishing our Mercedes-EQ brand, but in future we will keep pushing technological progress – especially on the electric drive side – focusing on Formula One.
"It is the arena where we constantly test our technology in the most intense competition the automotive world has to offer – and the three-pointed star hardly shines brighter anywhere else.
"F1 offers rich potential for technology transfer, as we can see in ongoing projects such as the Vision EQXX, and our team and the entire series will achieve net-zero status by the end of the decade."
Nyck de Vries' title in the ABB FIA Formula E World Championship has led to speculation that the Dutchman could move to Formula 1 next season with Williams.
Should that be the case, Mercedes would need to find a replacement for the 26-year-old to race alongside Stoffel Vandoorne who is expected to remain with the team for its third and final year in Formula E.