AlphaTauri technical director Jody Egginton says that Yuki Tsunoda's struggles over the course of the first 11 races of 2021 are no surprise and only to be expected for a young driver making the transition to Formula 1.
The Honda-backed Japanese rookie finished in the points in his first race in Bahrain but then crashed out of qualifying at Imola and spun in the race itself while running in the top ten.
There were further costly incidents in qualifying at in Azerbaijan and France and he admitted that he needed to 'calm down'. Since moving from the UK to be nearer to the team headquarters in Faenza he's found better consistency and was in the points in the most recent races in Britain and Hungary.
Egginton said that these sorts of problems are only to be expected, especially given modern F1's technical complexity and the lack of track time available to new drivers away from the race weekend.
"Any first-time driver in F1 who's had any length of career, they have ups and downs," Egginton told Motorsport.com this month.
"I can think back to my time in previous teams where at the start of the season with a young driver, there was a mixture of exuberance and bad luck.
"Before you know it, you are five races in and scratching your head and going: 'What's gone on there?'.
"It's not unusual.It's frustrating, and challenging, but it's not out of the blue," he insisted. ""He's on the learning curve, it's a steep curve and he's doing a fantastic job."
Egginton suggested that Tsunoda's strong start in pre-season testing and finishing in the top ten in his debut race has actually worked against him.
"I think some of the added focus is on the fact that he had a good opening race," he said. "The car's competitive and then the expectation goes up, but you're still on that same learning process.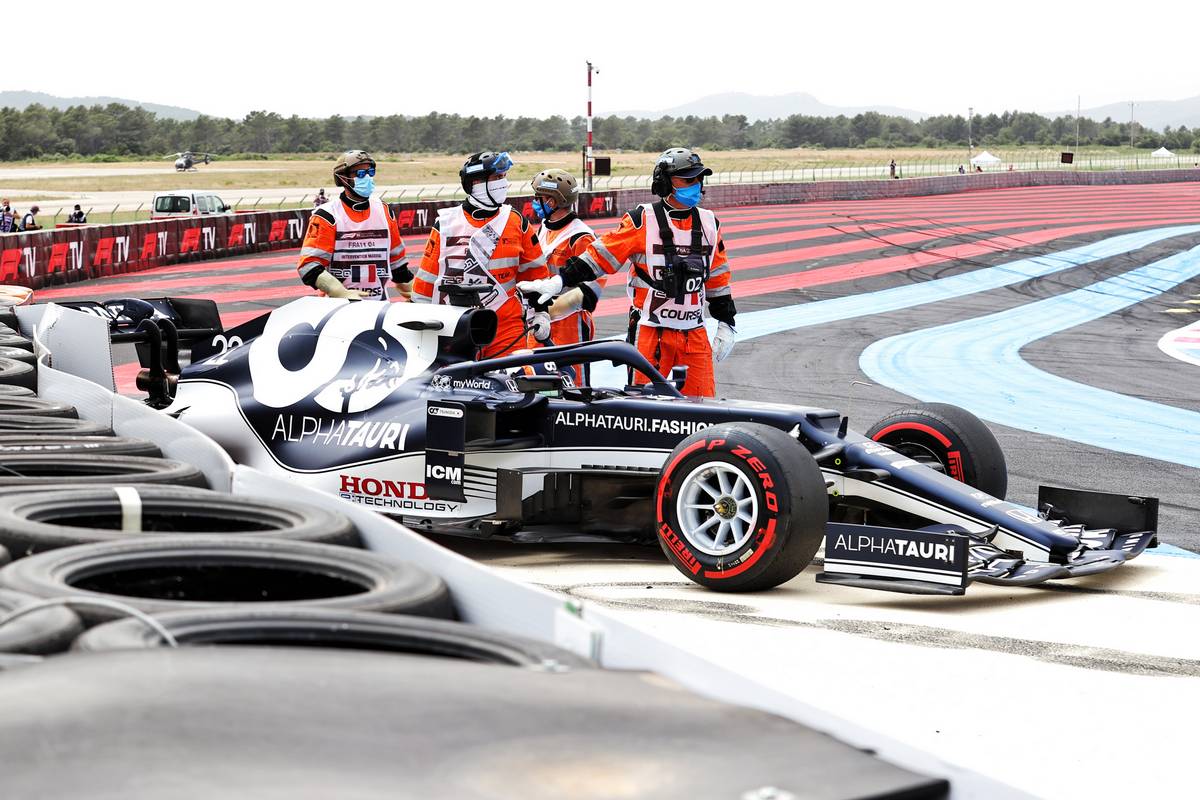 "If you are in focus and towards the front when it happens, all of a sudden the question marks and the questions seem to be a little bit more intense.
"But for me I don't see anything out of the ordinary," he insisted. "What is different now of course is the complexity of Formula 1.
"With the intensity of what you've got to pick up - what you've got to learn, and also the rapid pace of development in F1 from an engineering and car development side - it just makes it more challenging.
"In terms of the driver work load, it is difficult to draw parallels to other instances," he said when thinking about previous young drivers making the step up to F1 in the past, such as Kimi Raikkonen and Felipe Massa.
"It wasn't so many years ago where you could have a bit of a rough FP1 and recover it in FP2. Now if you miss track time, you are struggling to come back at it.
"If you've got a younger driver in the car it is even harder, because that track time has more value. There is so much going on.
Tsunoda himself says that the first half of his rookie season had been "interesting and enjoyable," but admitted that many things had proven "unexpected".
"It did not really match with what I had thought it might be like before the season started," he said. "There were lots of ups and downs and at times my performance was very inconsistent.
"But overall, I am quite happy because I managed to score points, helping Alpha Tauri to be the only team to score points in every race so far this year. We need to keep that going now as we start the second half of the year."
Gallery: The beautiful wives and girlfriends of F1 drivers
Keep up to date with all the F1 news via Facebook and Twitter