Sebastian Vettel says the final part of Belgian Grand Prix qualifying in which McLaren's Lando Norris heavily crashed should not have started at all given the poor track conditions.
Norris slid off the track on the run up Raidillon at the very beginning of Q3 and heavily clouted the barriers. After spinning further up the hill, the wrecked McLaren came to a halt, its driver battered and bruised but apparently uninjured.
Vettel was the first driver to reach the scene of the crash and immediately stopped to check on Norris who signaled to the Aston Martin driver that he was okay.
But the German was fuming over the radio, as the incident happened just after he had called for a red flag.
"Yep, well, what the f**k did I say?" he shouted. "What did I say! Red flag! It's unnecessary."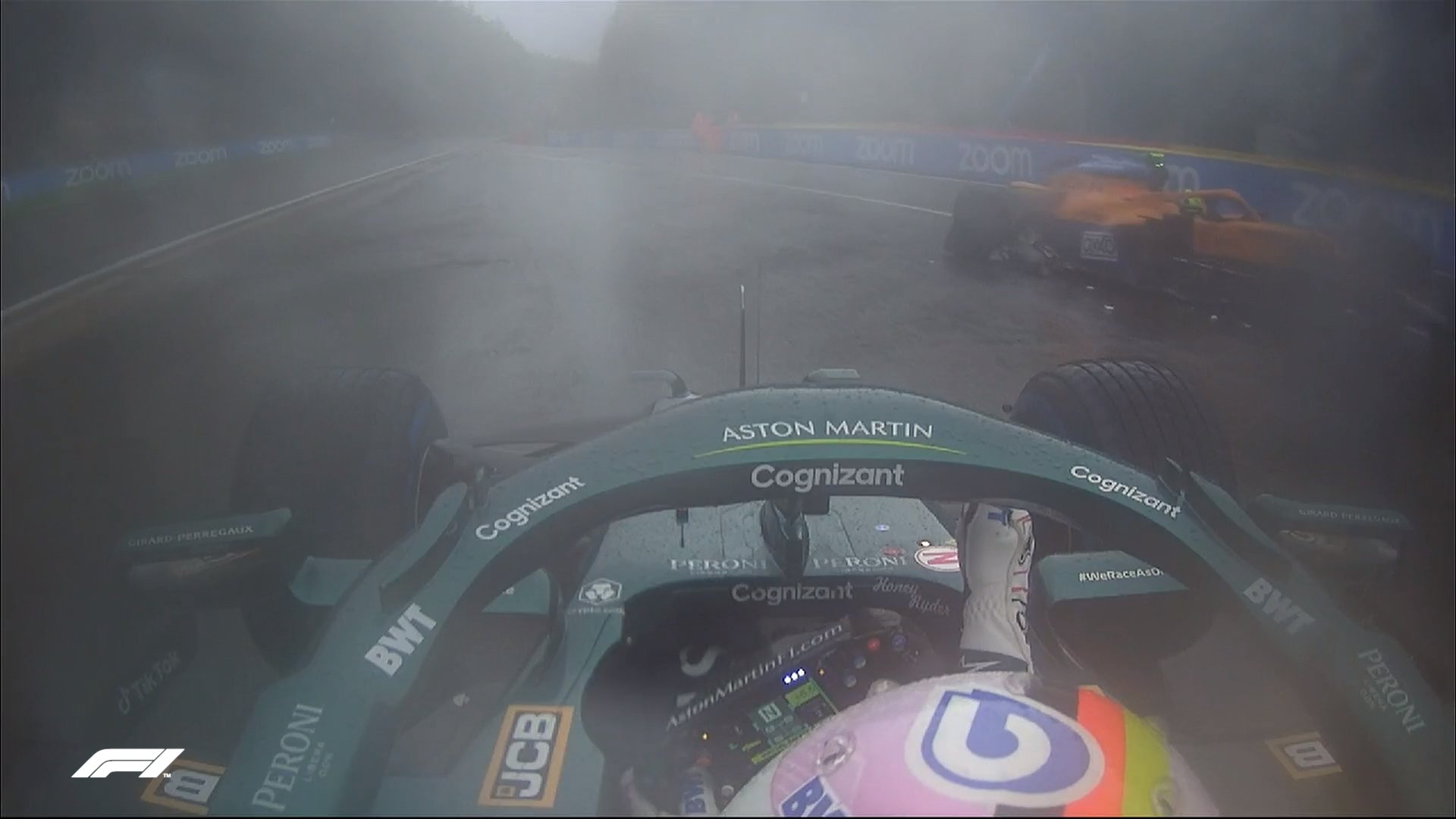 Speaking later on to the media, the four-time world champion had calmed down, but insisted that in hindsight, the final segment of qualifying should not have been started.
"I think Michael is not proud of what happened either," said Vettel, when asked if he would seek a discussion with FIA race director Michael Masi on Saturday's incident.
"It's always easy to play Captain hindsight. I think we need to find a way that we listen more to the information that we have.
"Inside the garage it's very limited, it's like looking out of the window… Then three kilometers that way I have no clue what's going on.
"When I went down Eau Rouge and then came up the hill, it was a lot of water and I was calling for a red flag. But the truth is that the session should not have started at all.
"There are plenty of things we could have done better. It's better to be safe one time too many than one time too little.
"It's good that nothing happened, that's the main news but it could have been a different outcome for Lando and I'm not sure there's anything he could have done."
Vettel argued that drivers are reticent to take matters into their own hands when it comes to making a call on the conditions as they don't want any backlash from their team.
"The trouble is, of course we are in control and you can always say, well, if you feel unsafe, box," he explained.
"But it's sort of a weird situation because everybody is in the same position, and you don't want to get kicked out, you want to progress. So that decision shouldn't be entirely up to us.
"We delayed the session in the beginning when there was less water so I don't entirely understand why we just didn't start the session. Easy afterwards but the main thing is that it doesn't happen again."
Gallery: The beautiful wives and girlfriends of F1 drivers
Keep up to date with all the F1 news via Facebook and Twitter