McLaren driver Daniel Ricciardo says that he's on board with the changes that he has heard proposed to make Spa's Eau Rouge/Raidillon sequence safer.
Long acknowledged as the most difficult and challenging corner in Formula 1, Spa-Francorchamp's daunting uphill sweep has been the scene of a number of serious incidents in recent years.
Anthoine Hubert was tragically killed in an accident there in 2019, with Juan Manuel Correa suffering severe leg injuries in the same incident.
Last month, Williams F1 reserve driver Jack Aitken sustained fractures to his collarbone and vertebra after an accident during the Spa 24 Hours GT World Challenge Endurance Cup.
And on Friday, a multi-car pile-up during qualifying for the W Series resulted in two drivers being sent to hospital for medical evaluations.
That was followed 24 hours by a huge shunt for Ricciardo's McLaren team mate Lando Norris when he aqua-planed off at the start of the final round of qualifying for the Belgian Grand Prix.
Norris himself had warned of the dangerous conditions before the accident while Aston Martin driver Sebastian Vettel had called for a red flag because of the heavy rain. Ricciardo also had a near miss in the treacherous conditions.
"I was on the radio, saying the conditions, and then I had like an aquaplane in seventh gear," said the McLaren driver who qualified P4 for Sunday's race.
"I basically said, 'Oh ****!' - and I think that was my way of saying this is not safe!
"I guess I could have been more direct and said, 'Guys, we need to red flag it!' I did say I think it's the right call to red flag it.
"But it's tough because you don't want to be the guy saying I don't want to drive. But the truth is, the conditions just weren't safe enough. But that's Spa, you get these conditions.
I never thought we would have ended the session on intermediates. I have no idea how the track dried like that. It's so unpredictable," he added. "Obviously in hindsight we didn't have to go out that session. Well learn from it."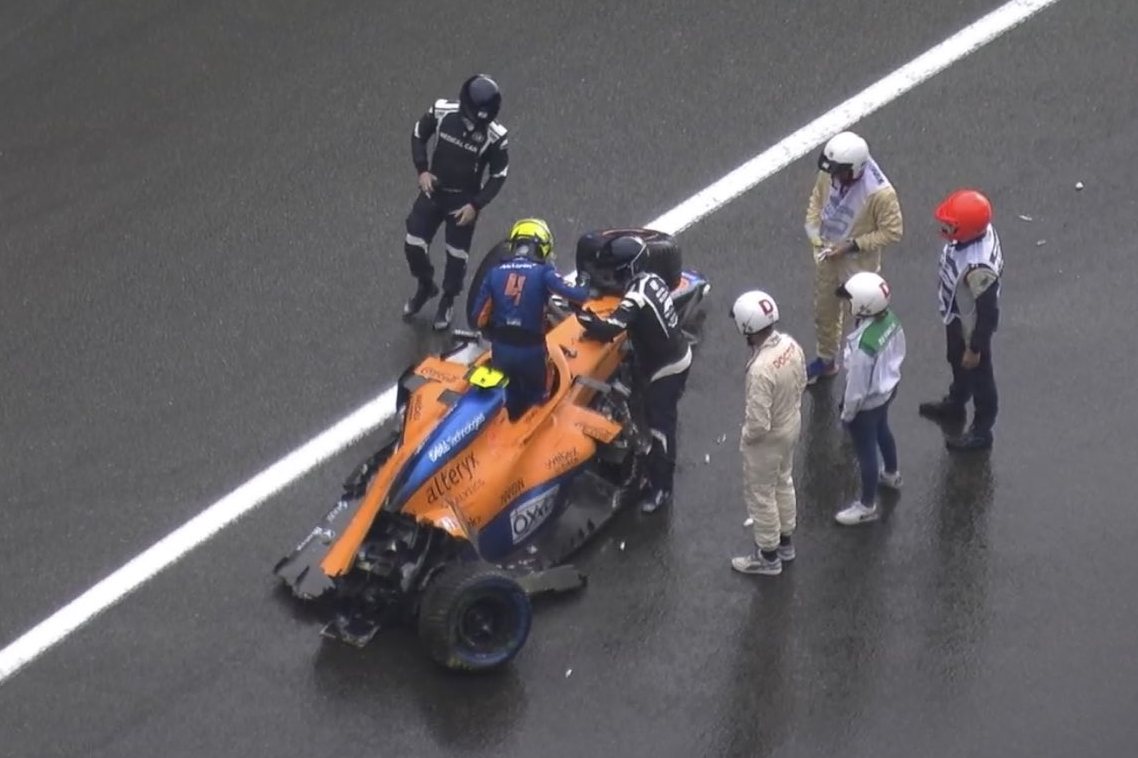 After his accident, Norris was dispatched to hospital and has been given the all-clear to race tomorrow - provided the team can rebuild his shattered car which means that a pit lane start is all but inevitable.
"It was a big one today obviously. I believe Lando radioed in straightaway saying he's OK for the most part so he's getting medical checks now and we'll keep in touch with the team and hear how he's doing."
Ricciardo said that it was inevitable that the circuit would need to take action to stop so many repeated serious accidents taking place at Eau Rouge and Raidillon in recent years.
"I think they're going to open up," he suggested. "So not change the layout of the circuit, but push back the barriers and all that and try to open it all up.
"It's obviously an extremely fun corner and an iconic corner on the calendar but when it goes wrong it's always a big one," he added.
"If it doesn't change the shape but just increases safety, of course we're on board with that."
Gallery: The beautiful wives and girlfriends of F1 drivers
Keep up to date with all the F1 news via Facebook and Twitter