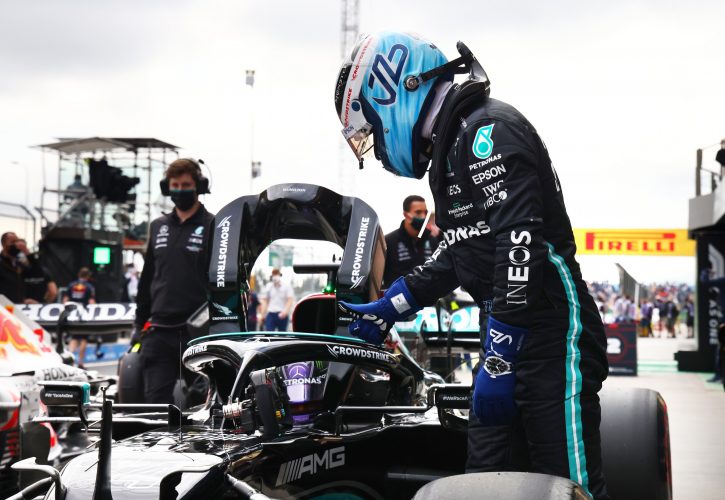 Valtteri Bottas has insisted that he didn't ease up on his final qualifying run in order to help out his Mercedes team mate Lewis Hamilton.
Hamilton set the fastest time in qualifying but faces a ten place grid drop for tomorrow's Turkish Grand Prix meaning he will start from 11th.
Bottas had looked on course to match Hamilton's time at the end of Q3 but ultimately fell short. However the Finn insisted that he hadn't backed off to prevent Hamilton being bumped down another place on the grid.
"No I wasn't asked to slow down and I was definitely going for it," he told the media in parc ferme after the end of Saturday's session. "On the final lap, I missed a little in the last sector with some understeer, but other than that the lap was really nice.
"It was a good session, and obviously as a result for us as a team it's the ideal and perfect in a way, with the situation we have and with Lewis' penalty.
"Q1 was tricky with the conditions," he continued. "To be honest, even at the end of Q3 there were still a couple of spots where there were a few damp patches. You needed to be a bit cautious or find the best way around them.
"I could feel I was losing a bit of time," he explained of his final run. "I started to struggle a bit with the front end in the last sector, so I just had some understeer in turn 12 and 14.
"But I enjoyed it," he said. "The grip level was decent, and from the start of the weekend the car has been in a pretty good window in terms of the set-up. We didn't need to make massive changes.
"I probably used the tyres a bit more earlier in the lap," he added. "I was fully going for it, for sure.
The same will be true for tomorrow, where Bottas is determined to take his tenth F1 Grand Prix career victory before he leaves Mercedes at the end of the season.
Max is starting next to me and the Ferrari has looked strong this weekend, so it'll be a tough race but we'll give it our all," he said. "At the moment I'm feeling confident in the car and the pace is good, so I think I just really need to focus on my own race tomorrow.
"I haven't won yet this season," he pointed out. "This is a big motivation for me. But I need to focus on certain things in the race: step by step, keep the focus, and hope for the best.
"Of course the start is always a risk, but honestly I think we have a pretty good race car," he told Sky Sports F1. "As long as I don't do mistakes, I should be able to keep [Max Verstappen] behind hopefully, but then over the race the strategy will always play a part.
Mercedes team principal Toto Wolff downplayed any suggestion that Bottas could be sacrificed to hold up Verstappen, or be ordered to hand over a prospective win to Hamilton.
"Valtteri wants to win the race and this is the best opportunity, and it's helping Lewis," he insisted.
Gallery: The beautiful wives and girlfriends of F1 drivers
Keep up to date with all the F1 news via Facebook and Twitter