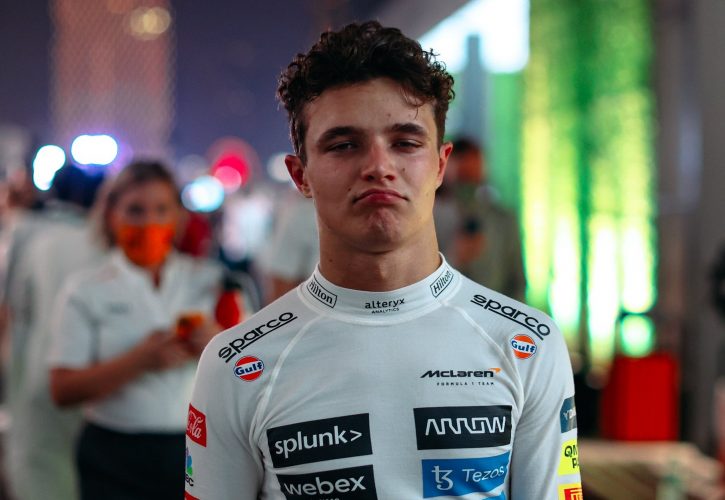 Lando Norris found himself in the Saudi Arabian Grand Prix on the receiving end of an unfortunate set of circumstances and a specific rule in F1 that he hopes will be "erased from history".
Norris launched his race on Sunday from P7 on the grid and held that position in the first ten laps of the race, until the Safety Car was deployed in the wake of Mick Schumacher's crash.
Norris, who was the only driver to start his race on the soft tyre, swapped his rubber for a set of hards, but the timing of the stop proved disastrous due to the subsequent red flag period that provided most of his rivals with a free pitstop and left the McLaren driver holding the bag down in 14th place.
After the race, Norris vehemently criticized the rule that allows drivers to change tyres during a race's suspension.
"I'll just say the rules should get banned, and they should bin the rules, they should press delete a number of times until that line and paragraph is deleted and erased from history," he said.
"I just got unlucky a lot of the time, the red flag ruined everything – basically everyone got ahead of me.
"And then even with the crashes, the one with Perez I was on the left and I got unlucky again and I couldn't go right, then everyone's like kamikaze and crashing into each other.
"Just a long race to score one point, but better than nothing.
"It's still a fun circuit to drive. But when you feel like you put that much to get one point, I think it's like my fourth consecutive one-or-two-pointer finish, it's just hard to take."
Beyond his personal frustrations, Norris said that McLaren could take solace from Daniel Ricciardo's productive run to P5, noting that the bemoaned red-flag tyre rule actually benefitted his teammate.
"I got unlucky with it [the rule], Daniel got lucky with it and finished P5 so I guess there's a 'pro' to it as well," said Norris.
"If both of us boxed, then it would probably be one of the worst days you can imagine.
"I'm happy for my side. I feel like I did a good job when I could and being patient and so on. A lot of people just crashed in front of me for some reason."
Gallery: The beautiful wives and girlfriends of F1 drivers
Keep up to date with all the F1 news via Facebook and Twitter