Moto GP legend Valentino Rossi admits the call he once received from Ferrari to test with the Scuderia was "a very big moment" in his life.
Rossi hung up his leathers at the end of last year when he concluded a two-decade presence in motorcycle racing's top category, but the seven-time MotoGP world champion hasn't stored away his helmet.
The 42-year-old Italian will apply his skills to the world of four-wheel racing when he tackles the 2022 Fanatec GT World Challenge Europe series onboard an Audi R8 LMS fielded by front-running Belgian outfit WRT.
But fifteen years ago, Rossi almost made the switch from two to four wheels when Ferrari came calling and he tested the waters of F1 during multiple tests conducted between 2004 and 2010 at Fiorano and at Valencia.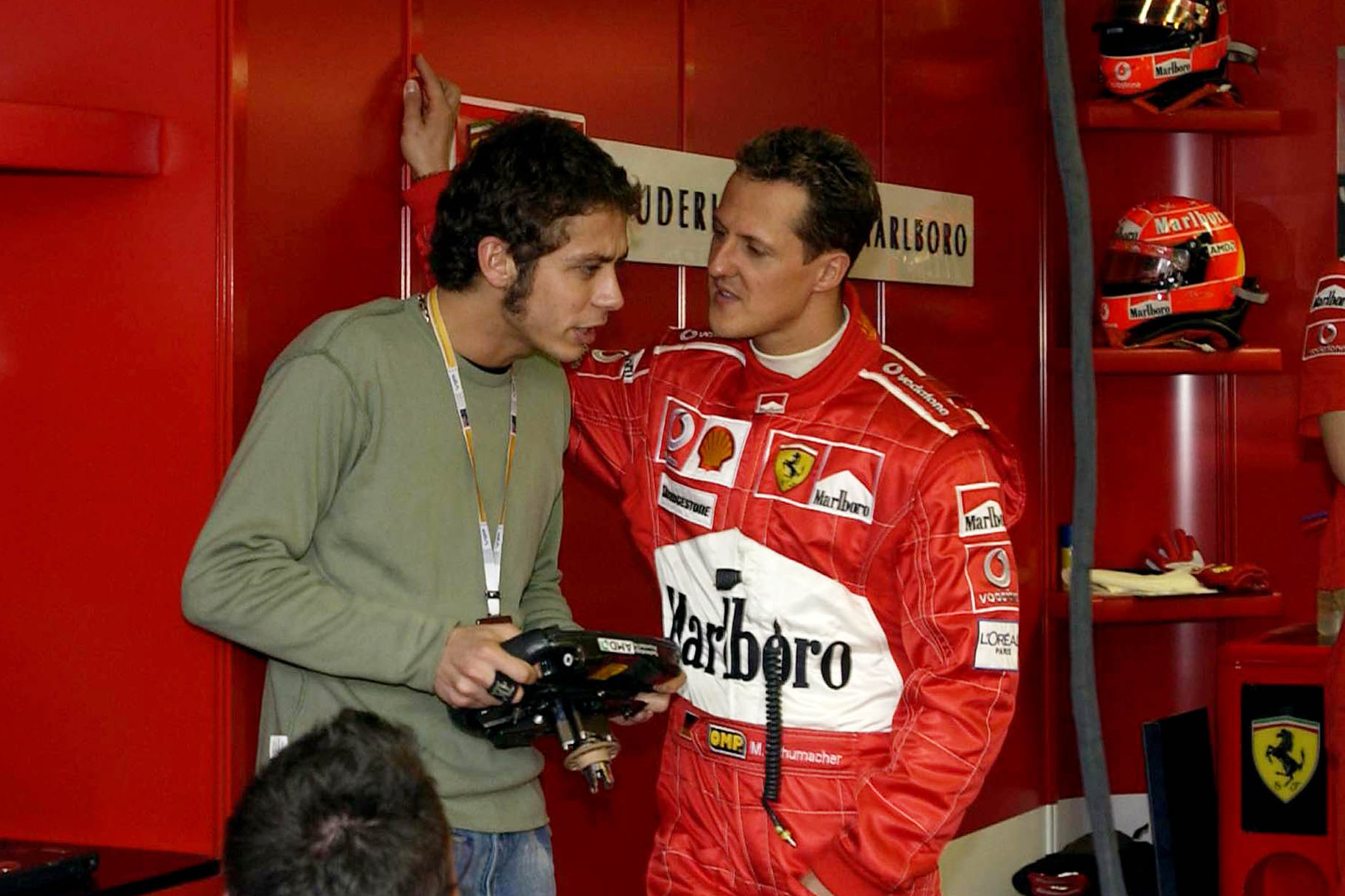 "That was a very big moment of my life," recalled Rossi on the 'In Depth With Graham Bensinger' show.
"Stefano Domenicali called me and said why don't you try our car, we have a track in Fiorano – it is interesting, fast and has a hairpin.
"I said okay and we organised it. We arrived in secret the day before because we tried to keep it secret but it wasn't at the end."
Ferrari's interest in Rossi was such that a second outing was organized at Fiorano in 2005.
But a 2006 F1 pre-season group test at Valencia at the wheel of an older F2004 really put him at the deep end.
Although comparisons with Scuderia pair Michael Schumacher and Felipe Massa were impossible given the different-spec cars shared by the trio during the test, Rossi nevertheless clocked in ninth fastest at the end of the second day of running, a result that at least validated his ability to perform at the highest level.
"In 2006 I did a test, a real test with the real drivers in Valencia," he said. "It was a good test, I was quite fast.
"But I remember when I came back home, I decided to stay in MotoGP."
Despite the encouragement from his entourage – even from his mother – to make the high-profile switch, Rossi ultimately considered that his F1 prospects offered too much uncertainty, even with Ferrari.
"For F1, I had a plan, but it was not straight with Ferrari," he explained.
"It was start with a small team, try to make some experience, and after if I am fast enough I'd arrive to Ferrari. But I had a lot of question marks.
"I also had a lot of pressure from my side. 'Go with the car', 'go with Ferrari' because it's something big.
"Everybody when I tried to explain and try to ask for help for my decision, they say to me 'no, no, you have to go to F1'. Also, my mother, for example.
"I think I have to decide myself, and in my heart, I think I have to stay with MotoGP."
Gallery: The beautiful wives and girlfriends of F1 drivers
Keep up to date with all the F1 news via Facebook and Twitter