Mercedes drivers Lewis Hamilton and George Russell say that social media platforms must crack down on unacceptable levels of abuse aimed at users of their service.
They made their comments during Friday's launch of the new Mercedes W13, when asked about the attacks made on Russell's former Williams team mate Nicholas Latifi.
Latifi had previously revealed that he was subjected to online abuse and death threats in the days and weeks following the controversial end to the 2021 Abu Dhabi Grand Prix in December.
It was his crash in the closing laps of the race that triggered a safety car, which ultimately cost Hamilton the lead of the race and an eighth world title when he was beaten by Max Verstappen at the restart.
Hamilton and Russell both condemned the treatment that Latifi received, and said that the social media companies had to do more to prevent this sort of behaviour in future.
"You could see there is so much passion within this sport," said Hamilton. "That's what really makes this sport so great, there is so much passion. But we've got to channel that in the positive way, not a negative.
"I don't think there's been a huge change or shift, or enough work has been done from these social platforms," he complained. "We still have to apply pressure for them to make changes.
"They're able to change these things and make changes, but they don't seem to do it quick enough. I think we need to continue to apply pressure.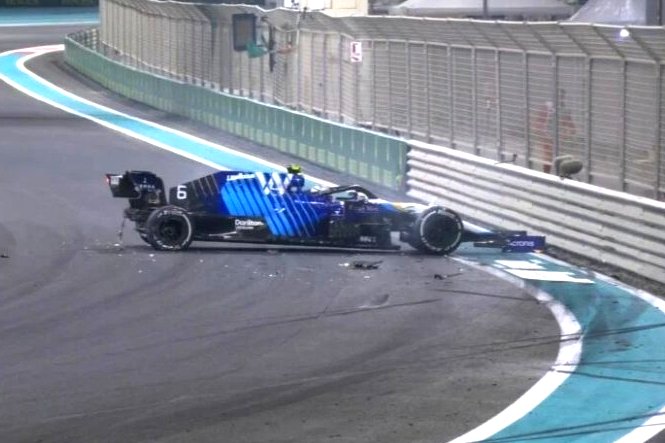 "Mental health is a real thing," he continued. "Through these social platforms, people are experiencing abuse and no one deserves that. It should never be tolerated."
Latifi revealed earlier this week that Hamilton had been in touch with him in the days following the controversial events at the end of the race.
"I was in touch with Nicholas," Hamilton confirmed. "He has my full support and I know how difficult it can be in those situations.
"I think it's important for him to know that he has support from people around him," he added.
On the night, Russell was still wearing Williams colours as he completed his last race for the team before his move to Mercedes for 2022. It gives him a unique insight into both sides of the fall out of what happened in Abu Dhabi.
"I felt really, really bad for Nicholas. He's such an amazing guy. He's put so much hard work and effort, and he's progressed a huge amount.
"Mistakes happen," he said of Latifi's solo accident. "I know first hand how difficult that specific Williams car was to drive.
"He didn't deserve at all to get what he received, so it definitely more needs to be done [
Russell admitted that he didn't know enough about online abuse, and that he intended to "learn and educate myself more about this". But he was adamant that "something really needs to be done" about the current social media situation.
Gallery: The beautiful wives and girlfriends of F1 drivers
Keep up to date with all the F1 news via Facebook and Twitter