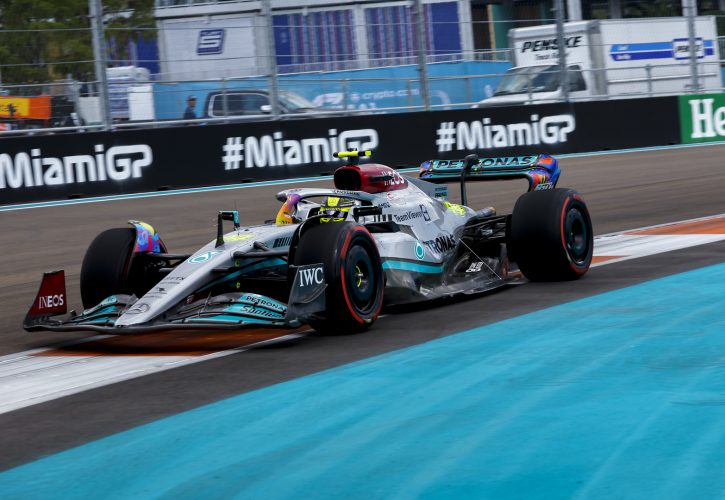 Toto Wolff says the set-up changes experimented by Mercedes in Saturday's final practice session in Miami were not fruitful and resulted in the team's W13 "bouncing like a kangaroo".
Ahead of this weekend's round of racing Florida, Wolff said that Mercedes had identified new directions to solve the chronic porposing issue impacting its new-generation car.
The Austrian warned that improving Mercedes' Silver Arrow would require a trial-and-error process. While Friday's performance – with George Russell topping the timesheets in FP2 – appeared to show progress, Saturday's trial was clearly an error according to Wolff.
"I think we've seen a performance in FP2 that was real," said the Mercedes F1 boss. "We were able to put it in a sweet spot, and today in FP3 we were completely off with the experiments we did.
"Grip is a little bit back, but the car is still bouncing like a kangaroo. The drivers are not happy with it, and you can see that's the reason we're off."
In qualifying, Russell failed to make the top-ten shootout, the Briton complaining that his car was a totally "different beast" compared to Friday despite running a similar set-up.
But Hamilton clocked in P6, and claimed that he had enjoyed his best qualifying in the last three races while admitting that no real step forward had been achieved.
However, Wolff believes that the team is narrowing down its knowledge of the complexities impacting its car.
"[We] definitely got a better handle [on it]," he said. "Also the slump that we had today from yesterday helped.
"It's never one thing that is responsible for performance or non-performance.
"We gained good reference points from Friday, we just need to continue to understand and develop but it's clear that we have a painful trajectory to follow at the moment."
Keep up to date with all the F1 news via Facebook and Twitter