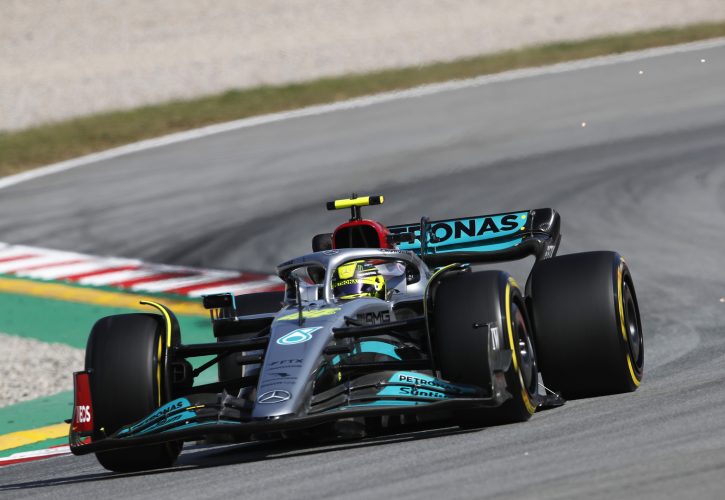 Toto Wolff says Mercedes' breakthrough in solving its car's porpoising issues will now allow the Brackley squad to pick up the development of its 2022 car to try and catch up with its Red Bull and Ferrari rivals.
Mercedes has worked tirelessly to vanquish through trial and error the bouncing phenomenon that has impacted its W13 silver arrow since the start of the season.
In Barcelona, the German outfit's car was fitted with several upgrades that have gone a long way towards eliminating the porpoising issue.
Speaking on Saturday after his team's best qualifying performance of the year, a relieved Wolff said that Mercedes' engineers finally succeeded in understanding its car's bouncing and how to mitigate it.
"Yeah, we understand now," Wolff told.  "It's an aerodynamic effect that's created from the floor swinging and it was difficult to come to that conclusion in a scientific way.
"But the team around [technical director] Mike Elliott and [aero chief] Jarrod Murphy have done it and that's great!"
However, while this weekend's progress bodes well for the future, Wolff said that Mercedes "wasn't there yet" in terms of unlocking more performance from its W13.
But the German outfit is now ready to play catch-up with its rivals.
"It's step by step," added the Austrian. "The other teams have been able to continue to develop their car, while we have been a little bit in a pause moment to find out about the bouncing.
"So, as soon as we can pick up the regular development, as soon as we understand the tyres better now the bouncing is gone, I think we will be catching up.
"I believe that we have done a solid step in Barcelona. You're trying to keep your expectations at a realistic point, and I think where we slotted in today is somehow the best we could have expected."
Keep up to date with all the F1 news via Facebook and Twitter