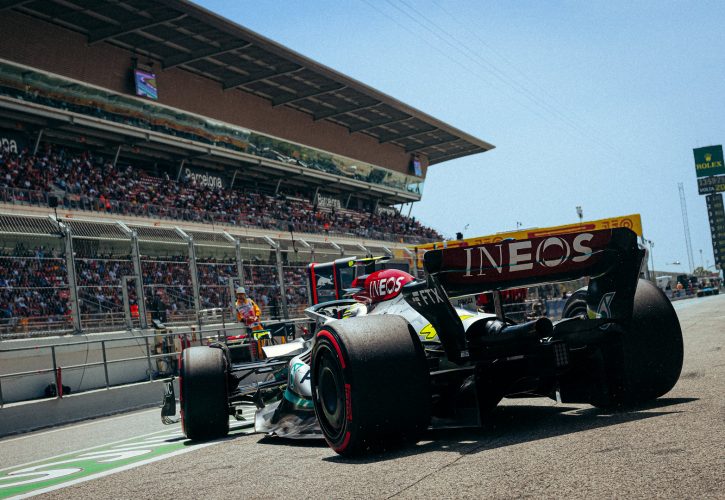 Mercedes made a definitive step forward in Spain in its understanding of its 2022 car but warns that it would be wrong to assume that its porpoising issue has been permanently eradicated.
After five difficult races in which it was a mere midfield contender, Mercedes finally emerged as a genuine podium contender on its merit in Barcelona where George Russell finished third behind Red Bull's Max Verstappen and Sergio Perez.
The Brackley squad has worked tirelessly from the outset to understand and solve its complex aerodynamic bouncing problem on its W13 that has undermined the team's performance.
But a breakthrough in the silver arrow's development led to good gains at the Spanish Grand Prix and to a much more comfortable ride for its drivers who reported only experiencing minor porpoising in certain corners at the Circuit de Catalunya.
But Mercedes chief strategist is tempering the German outfit's expectations, insisting that upcoming venues might trigger a return of its chronic porpoising phenomenon.
"We've had one race out of six where the car has been well behaved," said Vowles in Mercedes post-race debrief on YouTube.
"It was a car that really was a proper racing car for once. We could set it up, we could tune it, we could play around with the settings and it would respond in a way that was predictable, and the same couldn't be said for the car we had for the first five races of the season.
"However, we have to temper our expectations. It's one track, and a track that has suited our car for many years prior to this one. There is a lot for us to understand and learn."
Although Mercedes may not be out of the woods yet, team boss Toto Wolff was adamant after last Sunday's race that a real breakthrough in the team's understanding of its car's troubles had been achieved, and Vowles confirmed the quantum leap.
"I think it would be wrong to say the porpoising issue has disappeared," he said.
"I think you still see it on our competitors and I'm sure there will be elements of it coming back again as we build on our understanding and the foundations we laid down in Barcelona.
"What I can say is we made a definitive step, a step in our understanding and the deployment of what we put on track. And we can build on that, and the same could not be said about the first five races with the car we had there.
"We will move forward from where we are now but it will be a journey, it won't happen overnight.
"And we've got difficult tracks coming up, we've got Monaco and Baku which will throw up their own challenges and surprises.
"The difference now, though, is we have a car that's within touching distance of the front and a car we can fight for a championship with."
Keep up to date with all the F1 news via Facebook and Twitter