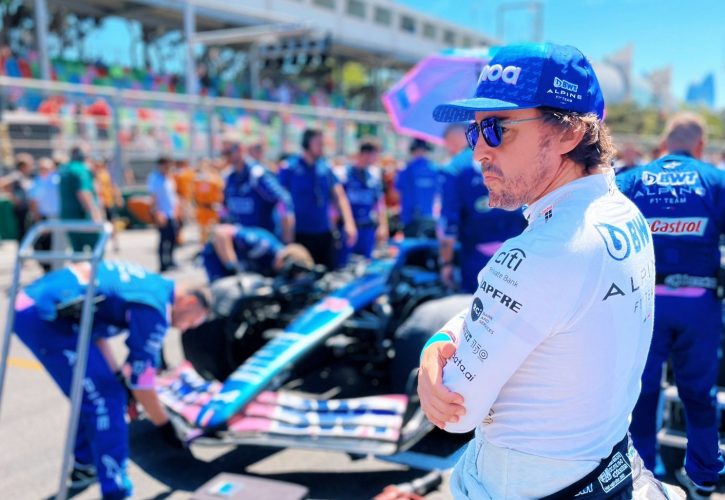 Fernando Alonso will replace Sebastian Vettel at Aston Martin next season, the current Alpine driver signing a multi-year contract with the Silverstone-based outfit.
Last weekend in Hungary, in the wake of the announcement of Sebastian Vettel's retirement from the sport at the end of the season, Alonso was singled out as a possible candidate for the German driver's seat at Aston Martin.
Queried on his future at the Hungaroring, the Spaniard mischievously said that "all the teams are an option as long as they don't have two drivers signed". But Alonso added that Alpine was his priority.
"We've been working and developing this project together for two years now," he affirmed.
But swift negotiations between Alonso, or rather his manager Flavio Briatore, and Aston team owner Lawrence Stroll apparently reached an equally fast conclusion.
"I have known and admired Fernando for many years and it has always been clear that he is a committed winner like me," commented Stroll on Monday.
"I have set out to bring together the best people and develop the right resources and organisation to succeed in this highly competitive sport, and those plans are now taking shape at Silverstone.
"It seemed natural therefore to invite Fernando to be part of the development of a winning team, and we very quickly established in our recent conversations that we have the same ambitions and values, and it was logical and easy to confirm our desire to work together."
Alonso's move to Aston Martin will add a sixth team to the 41-year-old's career in F1.
"This Aston Martin team is clearly applying the energy and commitment to win, and it is therefore one of the most exciting teams in Formula One today," he said.
"I have known Lawrence and Lance for many years and it is very obvious that they have the ambition and passion to succeed in Formula One.
"I have watched as the team has systematically attracted great people with winning pedigrees, and I have become aware of the huge commitment to new facilities and resources at Silverstone.
"No one in Formula One today is demonstrating a greater vision and absolute commitment to winning, and that makes it a really exciting opportunity for me.
"I still have the hunger and ambition to fight to be at the front, and I want to be part of an organisation that is committed to learn, develop and succeed.
"We all appreciate that there is much to be done to get to the front, and that we must apply all our energies in working together to find performance.
"The passion and desire to perform that I have witnessed convince me to maintain my enjoyment and commitment to the sport.
"I intend to win again in this sport and therefore I have to take the opportunities that feel right to me."
Alonso's switch to Aston opens up a seat at Alpine, and a big opportunity for the highly rated Oscar Piastri, the Enstone squad's reserve driver who was expected to be loaned to Williams for an apprenticeship with the British outfit.
It's unsure what triggered Alonso's decision to jump ship and to join a team that has been inferior to Alpine in all respects this season. But perhaps the offer of a one-year contract - with Piastri taking over the Spaniard's seat in 2024 - didn't appeal to the two-time world champion, who was also perhaps disappointed by its monetary value.
However, as motivated as Alonso claims to be at 41, it's hard to imagine how a switch to Aston Martin, with no years to spare, will reap bigger dividends in the coming two seasons than a seat at Alpine, although a world title is an unlikely prospect for both teams.
Whether it's a smart move or a knee-jerk reaction on the part of Alonso, only time will tell...
Keep up to date with all the F1 news via Facebook and Twitter